This Thursday, Southborough Library is bringing in a cookbook author to talk to patrons interested in learning how to write their own. (Or just curious about the process.)
The free workshop features a presentation and Q&A with author Sally Vargas. The event will take place on Thursday, March 30th at 6:00 pm. No registration is required to attend.
Here are more details, from the Library's promotion:
If you're a devout fan of cookbooks, have you ever wondered about the nuts and bolt behind the scenes in creating one?

Sally Vargas, author of four cookbooks and weekly recipe columnist for the Boston Globe Wednesday Food Section will share some insights with you in this one-hour presentation.

Sally will talk about how authors research, write, and edit their books. What are historically the most popular cookbooks? Have tastes changed in 2023, with so much online access to recipes? How does the book get published and marketed? Are cookbooks money makers, or they labors of love? Bring your questions and opinions and be prepared to discuss your favorite cookbooks and tell us why.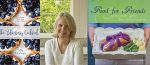 The event will be held in the main/upper level of the Library. You can read more about Sally, and the cookbooks she has written, here.
This seminar is part of a wide ranging series of food and cooking programs the Library is offering thanks to a Library Services & Technology Act grant distributed by the Massachusetts Board of Library Commissioners.