A regional chorus is inviting the public to get their groove on at their spring concert.
Northborough Area Community Chorus is promoting the concert theme, "That 70's Show and more!"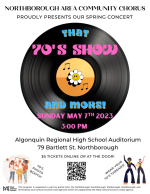 NACC will be singing songs from the 70s. To embrace the nostalgia, attendees are encouraged to "wear your 70's threads". There will also be a 70s themed photo booth.
The concert will take place on Sunday, May 7th at 3:00 pm in the auditorium at Algonquin Regional High School (79 Bartlett Street, Northborough).
You can purchase the $5 tickets at the door or online by May 5th here.