The Southborough Food Pantry asked me to make readers aware of their need for donations.* It's an issue they expect to get worse when they lose their school "Spirit Day" donations.
Pantry organizers are seeking donations specifically listed on their current needs list – or financial support to allow them to do the appropriate shopping.
Here is their current needs list:
CapriSun
Olive Oil
Ranch Dressing
Shaving Cream
Dish Detergent
Cheese-It Crackers,
Penne/Rigate
Large Cranberry Juice
Coffee Regular
Laundry Detergent Sensitive
Pasta Sauce in Jars
Parmalat
Solid White Tuna
Oatmeal Cookies
Thousand Island Dressing
Linguine
Pump Hand Soap
Brownie Mix
Chili with Beans
Mayo
Egg Noodles
Corn Flakes
(Other items not on the list are stocked up at this time.)
The donations can be dropped off in the storage bins at the back entrance of Pilgrim Church, 15 Common Street.
Please remember to check the expiration dates before you donate. (Also, note that while it's fine to donate multi-packs, please don't donate jumbo/commercial-sized items, like giant jars.)
You can also can donate online here or mail gift cards (like Stop & Shop, Price Chopper, Market Basket, Target, Walgreen's, and CVS) to Southborough Food Pantry c/o Pilgrim Church, P.O. Box 281, Southborough, MA 01772.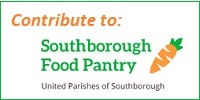 For future donations, you can always check on the pantry's latest needs by clicking on their ad on this blog (a larger version of the image left is located in the column right under recent comments). The ad links to their website, which includes their current needs list.
*According to Food Pantry volunteer Marjorie Coldwell, there has been a decline in donations. In addition, the pantry hasn't been able to get as many items from the Worcester County Food Bank as they used to. Meanwhile, since the reduction of federal SNAP benefits, they have seen a slight increase in the number of clients that need help.