Chestnut Hill farm is promoting that shares are still available to purchase in it's CSA (Community Supported Agriculture program). The farm is offering options to pick up produce weekly or bi-weekly during the 20 week season mid-June through October.
All of the "certified organic vegetables", fruit, and flowers are grown on the Southborough farm.
The Trustees promote the program as connecting people to their local food system:
providing a way to eat locally and experience a "taste" of farm life. Vegetable CSA members buy a share of the produce grown each season and share in the risks and rewards of farming while connecting with the land, local farmers, and their community.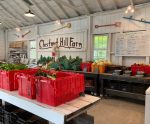 The shares are picked up "'market style' enabling you to select the produce you will most enjoy leave those you won't."
Each visit, CSA members fill up a basket/container described as sized appropriately for a family of four or a "2-person household who enjoy a lot of vegetables in their diet".
The bi-weekly option is $450 for 10 weeks. The weekly share is $695. During registration, members can choose Tuesdays, Thursdays, or Saturdays as their pickup day.
Below are more details from the Trustees:
The share consists of seasonal produce, with the early weeks comprised mostly of greens, and increases in variety and bulk as the season progresses. The farm will grow about 40 types of crops, from tomatoes to cabbage, winter squash and fresh onions, all of which started as seedlings in the greenhouse on the farm. The CSA is an opportunity to eat in season, try new vegetables, spend time picking your own flowers and herbs, and engage with the farm and farmers in a meaningful way.

"Community Supported Agriculture is a mutually beneficial relationship between a farm and its local community. In a CSA program, customers invest money at the beginning of the year for a weekly pick-up of vegetables during the abundant growing season," says Field Crop Manager Erin Espinosa, adding, "The benefits of joining a CSA transcend a healthy diet. In addition to healthy vegetables, you are building a relationship with your local farmer, your community, and the land every time you visit the farm to pick up your CSA share or walk our trails."

Shares are available now. To learn more about the share and to sign up, please visit thetrustees.org/chestnuthillfarmcsa.

Updated (6/22/23 9:34 am): My post originally accidentally referred to the season as through August. Obviously, that would be far less than 20 weeks! It runs through October.