This Saturday, residents can again hear talented members of Southborough's middle school jazz band on the radio. It's a prelude to their annual big concert next week.
Tomorrow, June 10th, Jamie Clark, leader of the award winning Trottier Big Band, will join WICN host Howard Caplan sometime during his 8:00 am – noon show "The Saturday Swing Session" on 90.5 FM. He'll talk to Caplan about the band and help introduce pre-recorded performances by the band.
So, tune in. Or, if radio is too archaic for you, you can stream the show via WICN.org.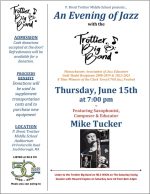 Then follow up by showing up at the school on Thursday night, June 15th to see them perform live a their annual Evening of Jazz.
This year their special guest is Mike Tucker — Saxophonist, Composer & Educator. According to his bio:
With a deep love for Jazz, Funk, Soul, R&B, and pop music, Mike Tucker has developed a unique approach that allows him to cross over to many styles of music w fluidity and ease while maintaining his artistic integrity. . .

To date, Mike has performed as a leader and a sideman in over 25 Countries. He has recorded and performed with a diverse list of artists crossing genre lines. . .

In addition to his career as a sideman, Tucker has 4 records out as a leader as well as two more as a co-leader with Dave Zinno's group Unisphere. . .

Despite Tucker's busy touring schedule, Mike Tucker is a professor at Berklee College of music as well as adjunct faculty at New England Conservatory and teaches Harmony, Ensembles, Improv Techniques, and Saxophone.
You can read more details here.
As in past years, the concert is free, but voluntary donations to a cause will be collected at the door. Funds will also be raised through refreshment sales. Proceeds will help support the program:
Donations will be used by the Big Band to supplement transportation costs and to purchase new equipment.
Updated (6/12/23 9:09 am): I have egg on my face. The info I posted on Friday about this year's special guest was based on a flyer from last year's event. I pulled out the info on Connor Jenks and replaced it with this year's guest, Mike Tucker. I also fixed the date.