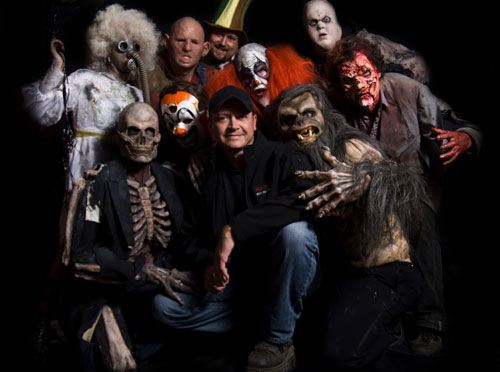 As the operations director of SpookyWorld/Nightmare New England in Litchfield, New Hampshire, it's Southborough resident Mike Krausert's job to create terrifying effects that will scare the pants off horror junkies all October long. Earlier this fall he got to use his ghoulish genius for a very good cause.
Krausert was tapped by ABC's Extreme Home Makeover to help create a haunted house on the campus of the Oregon School for the Deaf as a fundraiser for the school. In September he spent two days in Oregon building walls, costumes, and scenery at a breakneck pace.
"I kept joking with the staff while I was out there that I was here doing the complete opposite of what the show usually is about," Krausert said Wednesday about his experience working on an ABC Extreme Home Makeover episode. "They usually come in and turn a run-down house into something brand-new, but we came in an made a house look as bad as it possibly could."
You can read more about Krausert's time on the set in the Metrowest Daily News. Extreme Home Makeover airs Sunday at 8:00 pm on ABC. Many of you will be in the throes of trick or treating then, so be sure to set your DVR. If you miss the show, you can watch the full episode online after it airs.