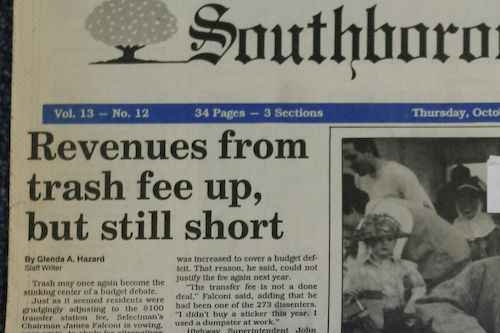 We've talked a lot about trash these past few months as Southborough considers whether to privatize the transfer station or move to a pay-as-you-throw model, among other options to fund trash operations. Turns out, it's anything but a new topic of conversation.
In 1990, selectmen made the decision to raise the cost of a transfer station sticker from $15 a year all the way up to $100 a year. It was an attempt to increase revenue to offset the cost of running the transfer station (that sounds familiar), but as you might imagine, it wasn't a particularly popular decision with residents.
A year after the price hike, the Southborough Villager reported the increase had not generated as much revenue as officials had hoped, and at least one selectmen said he wanted to consider other options like charging residents by the bag or by the pound.
"The question we have to answer is do we need to make the transfer station self-sufficient or do we provide for this service through real estate taxes," then-Selectman James W. Falconi said according to the Villager. "It's a service that virtually everyone needs, so is that something real estate taxes should provide? If we do need to charge, certainly I don't believe $100 a household is fair."
Twenty years later we're having the same conversation, except now the cost of a transfer station sticker is up to $175. What's your prediction? Will the town decide to stay the course as it did in the past, or are times ripe for change?