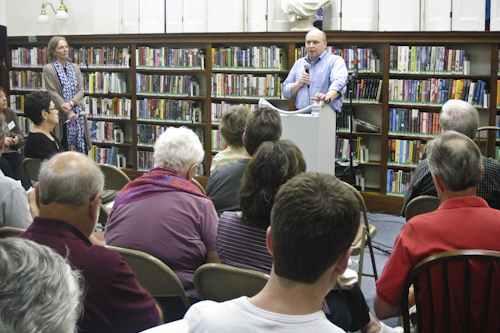 Our town is lucky to have a collection of very smart people who have done their homework and know exactly how they feel about the town manager proposal to be voted on at Town Meeting next week. Unfortunately, I'm not one of them.
I don't normally discuss how I vote on this blog, but I will tell you I haven't made up my mind on this one yet. I suspect many of you fall into the same camp.
(For those of you just coming up to speed, I'm talking here about the proposal to hire a so-called strong town manager who would have operational control over budgets and day-to-day activities. The proposal also includes increasing the size of the Board of Selectmen from three to five.)
Part of it depends on what happens on the floor of Town Meeting on Monday. Town Moderator David Coombs said last night he expects a number of amendments to the article, and things could get messy. The Library Board of Trustees has already said it will propose a wording change to the legislation. The drafting committee itself may (or may not) do the same. Drafting committee member Leo Bartolini said as of last night he's still considering whether to make a motion to split the article into two separate ones.
Clearly, it's complicated.
For those of you still undecided, let's see if we can get some of the quesitons and answers out in advance of Town Meeting with the hope it will educate us all.
The most common questions I've heard from residents about the proposed legislation are:
What's so broken about our government that we need to make this change?
Would the town manager have too much power over departments and budgets?
If we expand the Board of Selectmen to five members, will we even get enough people to run?
Why should we make so many changes all at once?
Do your big questions fall into that list? Do you have others? I invite you to share your questions in the comments below. And if you have opinions on the questions asked by others (or any of the ones I posed above) please jump in.
For those of you wanting to do some homework, start by reading the proposed legislation, which you'll find beginning on page 2 of the annual town warrant (page 12 of the PDF version). You may also want to take a look at this post for some good discussion.