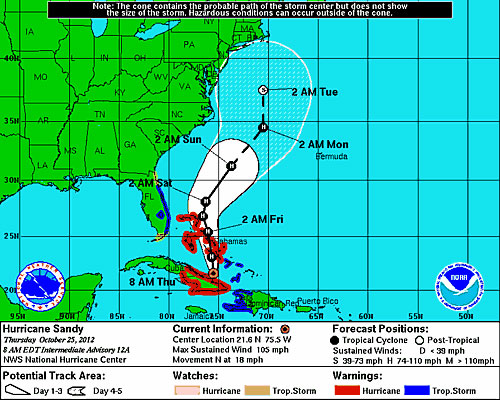 Talk about October surprises. I dismissed the hype about then Tropical Storm Sandy from early this week as just that – hype. But forecasting models now have the storm getting uncomfortably close to New England, and today the Massachusetts Emergency Management Agency said Sandy could have "a major impact" on our area early next week. Oh boy.
Sandy is now at hurricane strength, and centered just north of Cuba. It is expected to make a track up the East Coast and into New England over the coming five days – just in time for a wet Halloween. Forecasters seem to agree Sandy will impact our area to some degree, but how much is still uncertain.
It's entirely possible this could be much ado about nothing, but with memories of the damage and power outages from Tropical Storm Irene still fresh in our minds, it probably wouldn't hurt to start taking some steps to prepare.
"Early planning and preparation can be the key to your safety," MEMA Director Kurt Schwartz said in a press release today. "It is important to use your time wisely and not wait until the last minute to ensure your family's safety."
Here are some of the preparations MEMA recommends. You can see the full list in this press release.
Make sure your family disaster kit is stocked. (You have a family disaster kit, right?)
Trim back trees and shrubbery around your home. Remove diseased or damaged tree limbs that could be blown down, causing damage, during a storm.
Rake the leaves away from storm drains.
Bring in outdoor items such as lawn furniture, trash barrels, hanging plants, toys and awnings that can be broken or picked up by strong winds and used as a missile.
Elevate articles in your basement that could be damaged from even minor flooding.
Keep the gas tank in your vehicles full.
So, Southborough, tell me. Are you taking this one seriously? Anyone running out to BJ's to stock up? Or do you think it's all a bunch of hot air? Share your thoughts in the comments below.