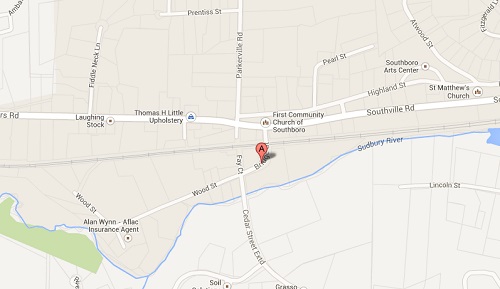 I can't even go a couple days without breaking my promise to myself that I'll ignore breaking news. But I'll just make this a quick post, rounding up the alerts on Southborough Police Facebook page this week.
Bridge Street bridge closed indefinitely
From Southborough Police Department, comes the notice of a sudden road closure for safety reasons:
If Bridge Street is After conducting an inspection of the bridge on Bridge Street, it was determined by the Massachusetts Department of Transportation that the bridge would be closed until further notice.

Again, Bridge Street will be closed for traffic from now until further notice. Please seek an alternate route through this area.
Aggressive and or sick coyotes
In mid-July, I posted a story sharing a reader's concern about a "mangy coyote" near Middle Road. It drew a surprising number of passionate comments. Readers debated whether the coyote was sick or harmless, and whether it should be cured and released or put down.
On Monday, Southborough Police Department's facebook page shared information about reports of aggressive or sick coyotes over the weekend:
Over the weekend, officers investigated three separate reports of aggressive or sick coyotes in town. On Saturday, an officer investigated a report of a large, aggressive coyote in the area of Granuaile Road. A resident of Granuaile Road reported that the coyote would not leave him alone (while he was outside of his home), and eventually began to charge at the resident. The resident fled back into his house and contacted the police department. The responding officer observed the coyote before it fled into the woods, and noted that it was a large coyote. On Sunday, residents of Boswell Lane and Saddle Hill Lane reported a sick coyote in the area, as well. Our Animal Control Officer was notified of all three incidents.

We want to remind our residents to never approach or feed a coyote. We've included a link to the Mass Audubon Society, which provides some useful information on how to co-exist with these animals.

http://www.massaudubon.org/printwildlife.php?id=23