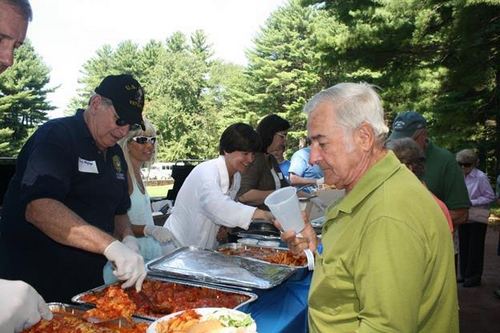 Representative Carolyn Dykema's picnic for seniors is scheduled for today – Tuesday, August 25th. The event is rain or shine. With the threat of rain or storms, the "picnic" is being moved indoors.
I've been told that signs at the site will direct you where to go.
The picnic is an annual tradition for our district's State Representative.

It's a chance for seniors to bend the rep's ear in a social setting. It's also a chance for a free lunch and entertainment.
Volunteers will serve up a hot Italian meal (ziti, chicken parm, meatballs, salad) and cake. And a DJ will be on hand to help keep the lunch fun. (Check out these seniors "getting down" at last summer's shindig.) 
Attendees were asked to pre-register by  calling the Senior Center at 508-229-4453.
The lunch will take place from noon to 2:00 pm at Hopkinton YMCA's Camp Carol Pavilion. That's at 45 East Street, Hopkinton MA. Look for signs or staffers pointing the way to the festivities.