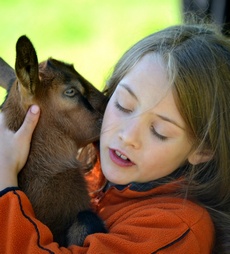 It's a long weekend. That means a lot of you will head out of town. But for those of you sticking around, what's there to do?
There's only one event in town. Still there are other ways to make the most of this long weekend.
Here are some town resources you should take advantage of:
Take a hike. Literally. Check out walking trails in town and the surrounding area.
Shoot some hoops, practice your tennis serve, or grab some friends and hold a game of beach volleyball. Take a look at all the town's open athletic and recreational fields.
Speaking of the library, it's the first open Saturday in two months. So, if you've had trouble making it there this summer, here's your chance to check out some books, movies, and more. (Just get there before 5:00 pm. And remember, they are closed this Monday.)
As for the one event, it should appeal to both animal lovers and gardeners. This Saturday, September 4th, you can head to Chestnut Hill farm to Meet the Farmer. 
The monthly public event will be held from 10:00 am – 2:00 pm:
10:00 am – noon – Bunnies & Baby goats – We will introduce you to some of our younger farm livestock. Come and meet some of the bunnies and see how much some of the goat kids have grown in the last 3 months.
10:30 am and 12:30 pm –  Seed-saving in our gardens – Desiree will talk about seed saving and how easy it is to save seeds from your own home garden. There will be demonstration and instructions about how to save seeds from annual flowers, tomatoes, and some of your other favorite veggies. This is also a hands on seed-saving demo so participants will go home with some packets of seeds they have saved for gorgeous flowers for next year.
Ongoing Kids craft – Printing with Vegetables – We will print with some of our favorite veggies onto some cloth flags. Let's see which veggies make the best prints. Older kids can even carve a potato into a fun printing shape.