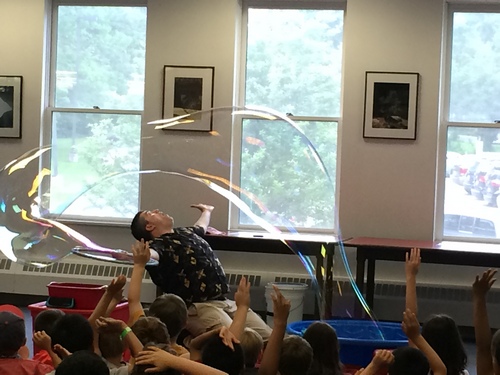 Fay School is kicking off another season of "Saturdays at Fay" next week. And they're starting off with a crowd pleaser.
The series offers monthly fun free programs for children ages 2-8. Events are open to the public, but pre-registration is required.
On Saturday, September 26, at 10:00 am, the school is hosting a performance by Mike the Bubble Man:
Mike the Bubble Man combines science and magic in his show all about bubbles! Through music, choreography, and comedy bubbles come alive, sparking imagination and wonder.

Space is limited so please visit fayschool.org/saturdays to register for this event.
The event takes place at Fay School's Primary School. Admission tours will be offered immediately following.
Look for more fun coming up later this season at Fay: 
Halloween at Fay – Saturday, October 31
Three Billy Goats Gruff & The Lion and the Mouse – Saturday, November 21
Jeannie Mack's Winter Songfest – Saturday, January 9
Jungle Jim's Superhero Training – Saturday, February 13
Jedster the Jester Circus Show – Saturday, March 12
If you have any questions, contact Nicole Casey at 508-490-8204 or ncasey@fayschool.org.