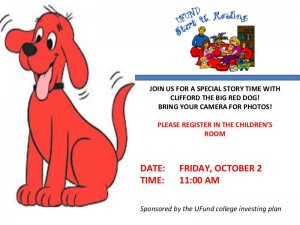 Kids who love the big red dog will want to head to the library next month.
The Southborough Library is hosting a special event with Clifford on Friday, October 2 at 11:00 am.
Children will be allowed to pose for pics, so be sure to bring your cameras (or smart phones!)
For more details, click the flyer or read the press release below.:
The MEFA U.Fund Start U. Reading Series will feature Clifford the Big Red Dog at the Southborough Public Library at 11:00am. Children are invited to participate in an engaging story time and related activities with their favorite big red dog. Parents are encouraged to bring their cameras for photos of their children with Clifford.

The U.Fund Start U. Reading Series is one of MEFA's statewide early college planning initiatives designed to introduce young students' to the joy of reading and literacy through interdisciplinary activities. All participants will have an opportunity to meet Clifford, have their photo taken, and receive a fun goody bag to bring home while supplies last. 

"MEFA is pleased to once again offer this exciting literacy event providing the opportunity for young children to visit their local libraries and experience the joy of seeing their characters from literature come to life. For twelve years, communities across the Commonwealth have participated in the Start U. Reading program promoting literacy to young children of all ages and we encourage all to take advantage of this popular community happening" said Martha Savery, MEFA's Director of Public Affairs

About MEFA

MEFA is a not-for-profit self-financing state authority, not reliant on state or federal appropriation that has been working for over 30 years to make higher education more accessible and affordable for students and families in Massachusetts. MEFA provides community education programs, college savings plans, and low-cost financing options. In its over 30 year history, MEFA has assisted hundreds of thousands of families in financing a college education. For more information, visit www.mefa.org or follow MEFA on Twitter @mefatweets and on Facebook at mefaMA.