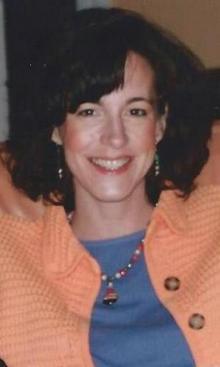 Jennifer Kenney Zschokke "The Lavendar Warrior", 50 of Southborough, MA passed away peacefully December 18, 2015 at her home surrounded by loving family after a 12+ year battle with breast cancer.
She was the beloved wife of Peter Zschokke and mother of Kyle and Ben. Born in Pittsburgh, PA, Jennifer received a B.A. from Westminster College and MBA from Boston College. In her professional career, Jennifer achieved many successes, eventually becoming Group Director Audit for National Grid PLC based in London, UK. Jennifer's' professional capability, compassion for others and calm demeanor made her an influential role model to many others at National Grid. These traits also brought many close friendships over the years. Only cancer could take away her passion to paint and sketch since she was a talented artist as well.
Jennifer is survived by her parents, Charles and Jeanne Kenney; her brother Mark Kenney, his wife Diane and their daughters Katie and Meredith; her sister Christi Boyle, her husband David and their daughters Ashley, Hayley, Ava and Ella and the family dog Apollo.
A Celebration of Jennifer's Life will be held on Tuesday, December 22, 2015 from 3 to 7 P.M. at the John P. Rowe Funeral Home Inc., 57 Main Street, Marlborough, Ma. Memorial Services will be held on Wednesday, December 23, 2015 at 11 A.M. at the Pilgrim Congregational Church, 15 Common Street, Southborough, MA. People are encouraged to wear purple. Burial will be at the convenience of the family at a later date. 
In lieu of flowers friends are asked to make donations to Art beCAUSE Breast Cancer Foundation (www.artbecause.org), P. O. Box 3025, Framingham, MA 01701 or Mass General Cancer Center 125 Nashua St. Suite 540 Boston MA 02114.