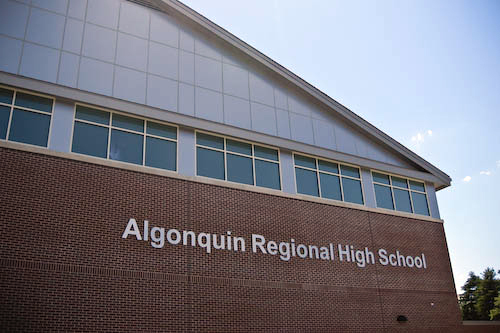 There's too much happening at Algonquin to cover it all. But here's a quick roundup of six newsworthy items:
55% growth in AP Testing over 4 years – from Regional School Committee meeting
At last week's Regional School Committee, Principal Tom Mead shared that enrollment in AP classes at Algonquin is up. Superintendent Christine Johnson followed with stats reporting that 715 students took AP tests in 2015. That's a 55% increase from the 461 participants in 2011.
Johnson said it shows that the school's curriculum teaches depth, not just breadth. She claimed that students couldn't take on AP classes without having a "rich understanding" of the subject matter.
English Department is trying to get a Writing Center started – from Principal's Report to Regional School Committee
Principal Mead informed the committee of plans by "passionate" members of the school's English Department. Mead announced that the team is working to find a local space for a potential Writing Center.
The center would allow students to drop-in for writing support in any subject. Their vision is to have assistance from different content teachers. They are hoping to get the project off the ground for next year.
New security cameras on the look-out – ARHS Harbinger 
The installation of new and improved security cameras throughout the school took the first step toward the goal of a safer school environment this November. . .

The installation not only added to the quantity of the cameras around the school, but it added to the effectiveness of the security system as a whole. (read more)
Algonquin program aids students returning from illness, injury – Southborough Wicked Local
Algonquin Regional High School will expand a new program that supports students returning from a prolonged absence, whether as the result of a physical injury or a mental health crisis.

The school was recently awarded a three-year grant from the MetroWest Health Foundation to support its ACCESS Program, which provides "stabilization, resiliency and reintegration" for students who miss a significant amount of class time. (read more)
Algonquin students to attend presidential inauguration in 2017 – Southborough Wicked Local
Members of the Northborough-Southborough Regional School Committee voted Wednesday to approve a field trip to Washington, D.C., where students will attend the inaugural parade and watch as the 45th president of the United States takes the oath of office. (read more)
Without a ballroom, Algonquin students are dancing in the hallway – Community Advocate
From the club's website: "We are proud to be the ONLY public high school in Massachusetts with a competitive ballroom dance team and we are excited to share our love of ballroom dance with the world."
Dancers will be competing at WPI on February 20th. The CA ran a nice profile on the students involved.