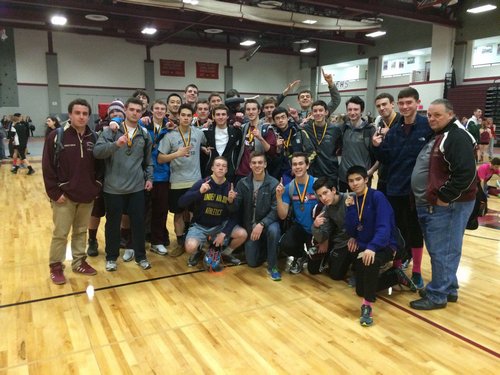 Before getting into the week's schedule, here's some news on teams starting their post-season competitions.
ARHS Boys Track won their league title with a 5-0 record. Last month, four of the runners won the D2 State Relay 4 x 800. According to tweets by their coach, the Boys set a new record for the school (8:07.48).  The team moves on to Districts this Saturday.
Girls track will also compete at Districts. With a 3-2 record, they currently rank 3rd in the league.
The Girls Swimming team will compete in both swimming and diving league invitationals this week. With a 6-1 league record, the Girls currently rank 2nd for Mid-Wach. Boys Swimming was ranked 4th in Mid Wach and appears to have completed its season.
Now, here are the ARHS varsity games on tap for the week. 
To find a complete schedule of Algonquin sports, including JV and freshmen match ups, click here. Follow these links for the Assabet sports schedule and the St. Mark's sports schedule.
Monday, February 1, 2016
6:00 pm ARHS Girls Ice Hockey vs. Longmeadow @ New England Sports Center
6:30 pm ARHS Boys Ice Hockey vs. Leominster @ Wallace Civic Center, Fitchburg
Tuesday, February 2, 2016
7:00 pm ARHS Boys Basketball vs. Shepherd Hill Regional High School @ Algonquin Regional High School
7:00 pm ARHS Girls Basketball vs. Shepherd Hill Regional High School @ Shepherd Hill Regional High School, Dudley
Wednesday, February 3, 2016
5:00 pm ARHS Boys Ice Hockey vs. Groton-Dunstable Regional @ North Star Ice Sports, Westborough
5:30 pm ARHS Girls Swimming League Championships @ Atkinson Pool (League Invitational Swim & Dive Championships – DIVE qualifiers)
6:00 pm ARHS Girls Ice Hockey vs. Winthrop @ Larsen Arena
6:30 pm ARHS Gymnastics vs. Acton-Boxborough Regional @ Acton-Boxborough Regional High School
6:30 pm ARHS Wrestling vs. Quabbin Regional High School @ Algonquin Regional High School
Thursday, February 4, 2016
3:00 pm ARHS Alpine Ski Race vs. TBA @ Ski Ward Ski Area
3:30 pm ARHS Girls Swimming Championships @ Tantasqua Regional High School (League Invitational Swim & Dive Championships – SWIM)
Friday, February 5, 2016
7:00 pm ARHS Boys Basketball vs. Wachusett Regional @ Algonquin Regional High School
7:00 pm ARHS Girls Basketball vs. Wachusett Regional @ Wachusett Reg. High School
Saturday, February 6, 2016
TBD ARHS Girls Indoor Track District Meet vs. TBA @ Fitchburg High School
TBD ARHS Boys Indoor Track District Meet vs. Fitchburg @ Fitchburg High School
10:00 am ARHS Gymnastics vs. Shrewsbury @ Shrewsbury
10:00 am ARHS Wrestling Duals vs. Haverhill @ Haverhill High School
7:30 pm ARHS Boys Ice Hockey vs. Hudson Public Schools @ New England Sports Center