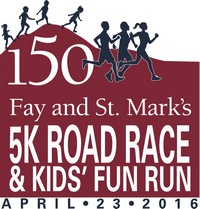 Is all the Boston Marathon talk inspiring the runner in you?
If you are looking for a good, but less grueling run, there's a 5k coming up this weekend.
Fay School and St. Mark's School are celebrating their 150th anniversaries by running a 5K to benefit the Southborough Food Pantry.
Children 10 and under can also take part in a free Kids' Fun Run.
The runs are Saturday, April 23. Registration is $15 through noon on Friday, April 22. After that, you'll need to register on site for $30. (Race day registration and bib pickup is 7:00 – 8:30 am.)
The 5K starts at 9:00 am. (All ages welcome.) The starting and finish lines are at Fay School's East Entrance at 25 Middle Road. The course is described as a moderately flat out-and-back course along Middle, General Henry Knox, and Parkerville roads.

The 10:00 am Fun Run is over on St. Mark's School campus on Barton, Sargent, and Flichtner Fields.  (That's about .3 miles away from the start of the 5K. Click thumbnail for campus map.)
Runs will be broken out by age into two groups (under 6 years old/6 years and older) and the distance is approximately .6 miles.
For more information and the registration link, click here.