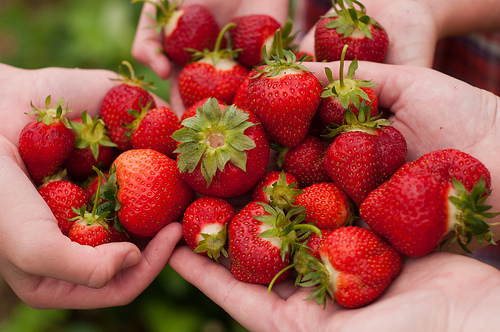 Strawberry season is here. And other summer fruits are just around the corner. So for those of you who enjoy the "pick your own" experience, where do you like to go?
When you go, are you there just for the pickings? Or do you like more of an "experience" – hay rides, activities for the kids, fresh baked goods?
I know that one perennial favorite is Tougas Family Farm in Northborough. In addition to a great playground and their popular goats, they have PYO strawberries, cherries, blueberries, blackberries, and eventually apples and pumpkins. (No peaches this year. The record cold temperatures in February killed the fruit buds for the 2016 season.)
But I also came across other close by PYO farms that look interesting. Have any of you tried any of these? What was your experience?
Nourse Farm (Westborough) strawberries, blueberries, raspberries, blackberries, and pumpkins.
Hanson's Farm (Framingham) strawberries and pumpkins.
Belkin Farm (Framingham) strawberries, apples, peaches, plums, nectarines, pears, and pumpkins.
Share your favorites and why you love them in the comments.
(And if you have different favorites for different fruits, that's fine, too.)