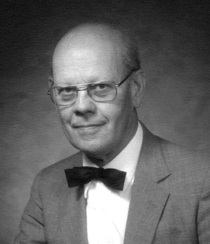 Dr. Timothy P. Stone, 101, of Southborough, passed away at his home on Monday, October 24, 2016.
He was the husband of the late Virginia Amesbury Stone who died in 2007.
Dr. Stone was the youngest of six children and grew up in Framingham. He graduated from Harvard College and Tufts Medical School, following the footsteps of his father and grandfather, who were both surgeons. Graduating and interning at the outset of World War II, he served as a major in the medical corps with the Army's 85th Custer Division in Italy and the Mediterranean. He was awarded the Bronze Star for his service.
Following the war, Tim served a year at Framingham Union Hospital and in 1947 established his medical practice in Southborough, from which he retired in 1993, serving the people of Southborough for more than four decades. He was also the physician at both St. Mark's School and Fay School. "Doc Stone" was a member of the Southborough Board of Health for 57 years. In his honor, the Board of Health instituted the "Doc Stone Award" to recognize others who reflect his influence and contribution. 
Besides his medical acumen, Timothy was known and respected for his keen intellect, discipline, precision, curiosity, and wit. He loved life and family, and he loved learning, reading, travel, photography, and woodworking. Doc Stone positively touched the lives of many and will be missed dearly by all he leaves behind.
He is survived by his son James S. Stone and wife Vicki, grandson Ari, granddaughters Sarah, and Shaina-Bracha, his daughter Susan A. Stone and her husband Colonel (ret) T. Ryan Torkelson, and his daughter Elizabeth d'Entremont-Clarke and granddaughter Siarah.
The community, friends, and family are invited to join in a celebration of his life on December 8 at 2 PM at the Southborough Community House, 28 Main St., Southborough.
There are no visiting hours.
Memorial contributions may be sent in his memory to the Massachusetts Audubon Society, http://www.massaudubon.org/.
Arrangements are under the direction of the Morris Funeral Home, 40 Main Street, Southborough. To leave words of condolence to the family, please visit morrisfuneralparlor.com.