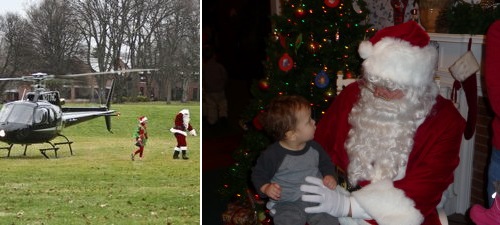 Santa Day organizers (Southborough Kindergroup) have contacted me to share some exciting changes for this year's event. (If you missed earlier announcements, that takes place this Saturday, December 3rd.)
This year, participants can pre-purchase tickets online until December 1st. (Unfortunately, that doesn't secure you a visit time. You still need to plan to stand in line. The Community House will be open from noon – 3:00 pm.)
The price is $10 per 4×6 photo. (You can also snap your own pics, as long as you pay the $10 to enter.)
Other big changes include new activities inside the Community House. While waiting to sit on Santa's lap, kids will be entertained by a caricaturist/balloon artist.
There will also be play areas and a dress up "photo booth" with props. Kids can also still enjoy live music and crafts.
Since Santa is set to arrive at noon*, this year Kindergroup is bringing in a food truck on the St. Mark's lawn. Juliana's Catering will sell hot dogs, pizza, wraps and more. That way you can grab a quick lunch before getting in line.
This year, proceeds will go to Southborough Youth and Family Services. They will have a table in the Community House and be collecting gift cards for their Holiday Giving drive.
Event organizers understand that some families have children with special needs who want to visit Santa, but may find the line and busy waiting area too difficult. If you need to make special arrangements for a child with special needs, please reach out to contact Lauren McAuliffe (lmmrn09@gmail.com). Kindergroup will try their best to be accommodating based on the number of requests they receive.
*The jolly old elf is scheduled to fly in by helicopter to St. Mark's field at noon (the corner of Routes 30 & 85.) If weather prohibits, the back up plan is arrival by fire truck.
Updated (12/1/16 10:26 am): Organizers asked me to clarify that you can snap your own pics – as long as you pay the entry of $10 per 4×6 photo.