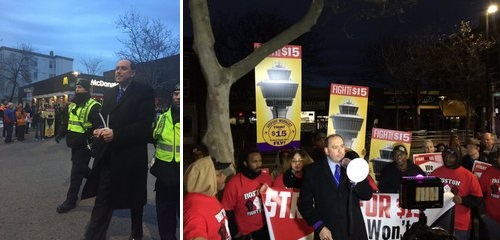 Yesterday our State Senator was arrested.
No, it's not a case of legislative corruption. In fact, Senator James Eldridge's arrest was apparently pre-planned. And it looks like he considers it a political badge of honor.
The Senator tweeted throughout the day. After his release, he announced:
I was released w/ my fellow #Fightfor15 protesters at 4:30 today fr/ Middlesex Ct in Medford, proud to stand up on #livingwage Day of Action
Yesterday, proponents for a $15 minimum wage held "disruption" protests around the country and multiple events in Massachusetts. Southborough Wicked Local covered yesterday morning's protest in Cambridge and Eldridge's arrest:
Cambridge police arrested a state senator at a protest outside a McDonald's restaurant early Tuesday morning, according to the senator's office, which said he was the only elected official among the 36 people arrested at the protest over wages.

An outspoken liberal who was protesting for higher wages and workers' rights, Sen. Jamie Eldridge is an Acton Democrat and co-chairman of the Committee on Financial Services. Eldridge was arrested for civil disobedience, according to his office.

"I'm very proud of the brave workers for having the courage to stand up to billionaire corporations and to fight for what they deserve," Eldridge said in a statement. "Big corporations have been exploiting lower-wage workers for decades, forcing people to work long hours and tough schedules without receiving fair holiday or sick pay, and without receiving a living wage."

The Massachusetts minimum wage on Jan. 1 rises to $11 an hour, the last of three, statutory annual $1 increments. Low-wage workers in late 2012 launched a national campaign in pursuit of a $15 an hour wage floor. Bills calling for a $15 an hour wage failed to gain traction on Beacon Hill this session.

Rep. Michelle DuBois, a Brockton Democrat who was at the protest and watched the arrests happen, said those who wanted to participate in a "planned arrest" sat down in the street as Cambridge police diverted traffic down the road. . .
Estimating about 250 to 300 protestors participated, Cambridge Deputy Superintendent Jack Albert said police knew ahead of time that once officers gave the order to clear the street 36 protesters would remain to be arrested, which is what happened.
Click here to read that full story.
Early yesterday morning, prior to his arrest, Eldridge tweeted:
Proud to #Fightfor15 in #DayofAction & will keep fighting until there's justice in the workplace for all workers #povertydoesntfly pic.twitter.com/lQGqsliNAN

— Jamie Eldridge (@JamieEldridgeMA) November 29, 2016
After his arrest (but apparently prior to release), he continued to tweet:
We will keep fighting until there is justice in the work place for all workers #FightFor15 My full statement here: https://t.co/koOqJ39iM6 pic.twitter.com/Oe5NkNJW0a — Jamie Eldridge (@JamieEldridgeMA) November 29, 2016