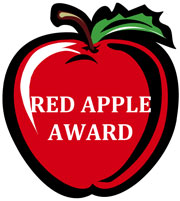 Reminder, if you are planning to gift the teacher a Red Apple for Christmas, the deadline is tomorrow (Tuesday December 18th.)
The Southborough Education Foundation's Red Apple Program gives Southborough (and Algonquin) teachers the resources they need to be creative and innovative.
Here's how the program works. You give a Red Apple Award by making a tax-deductible donation to the Southborough Education Foundation. Designate which teacher(s) or staff member(s) you want the award to go to, and they'll receive a certificate with your child's name on it. You decide the amount of the donation – it won't be printed on the certificate. Your contribution can honor more than one teacher or staff member.
The Red Apple Award program is a major fundraiser for SEF which provides grants to Southborough educators. With your contribution, you'll help support innovative educational programs for your child. A complete list of grants funded can be found on the SEF website (www.southboroughed.org).
Here's the form you need. Or, complete the information online.