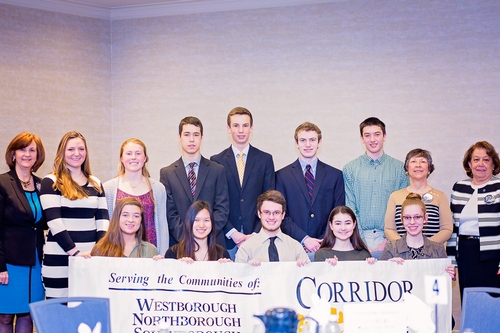 High school seniors can take advantage of next week's winter break to apply for a scholarship from the Corridor Nine Area Chamber of Commerce.
The Chamber will award more than $11K in scholarships this spring. They are encouraging Southborough students to compete.
As I learned last year, students don't have to be continuing to college to receive assistance.
Applications are also available for students who will be entering their career/trade directly after graduation or pursuing a certificate program to that end. The award can be used for a certificate program or to purchase tools.
The submission deadlines are January 12th. So it's getting late to pick up an original copy. Fortunately, Corridor Nine emailed me forms I can share.
To download a printable application click on scholastic or career/trade. To get an original copy, see the press release below: 
The Corridor Nine Area Chamber of Commerce is pleased to announce that a total of $11,425 is available in scholastic awards to graduating high school students. Students must be a resident of Westborough, Northborough, Southborough or Shrewsbury to apply. The awards given will be granted on the basis of scholastic achievement, community and school involvement, work experience, financial need, appearance of application, and an interview.

Applications are available in the guidance offices of the following schools: Westborough High School, Algonquin Regional High School, Assabet Valley Regional Technical High School, Shrewsbury High School, Holy Name, St. John's High School, Bancroft School, Notre Dame Academy, St. Peter-Marian Central High School, and St. Mark's School. To receive a scholarship application directly, contact the Chamber office at 508-836-4444.

Applications must be returned to the Chamber postmarked no later than Thursday, January 12, 2017. Recipients of the awards will be honored at a Chamber breakfast meeting scheduled for March 23rd at the Doubletree Hotel in Westborough.