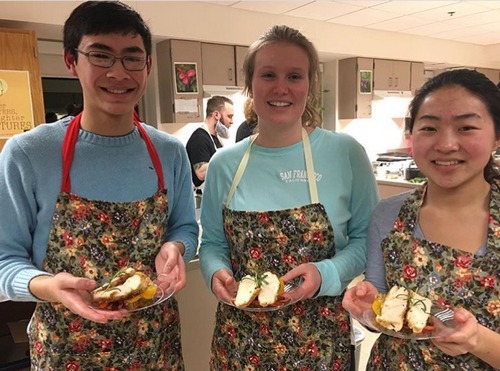 It's time for another roundup of news stories related to Southborough.
Two stories offer a shot of "girl power". One young woman is heading out into the world early to do mission work. Another earned honors through her athletic prowess.
A third covers a fun fundraiser Algonquin held last week.
Safiol graduates early to begin overseas mission trip – ARHS Harbinger:
Senior Selena Safiol will embark overseas on a six month long mission program, which requires her to graduate five months before her classmates on January 13.

"We spend three months [in New Zealand] doing a lecture phase of a Christian missions program and then spend two and a half months in an outreach phase somewhere either in Fiji, New Zealand, India, Africa, or any of the South Pacific Islands," Safiol said.

"[My [Discipleship Training School program] is sort of geared towards music and worship," Safiol said. "We are learning, in the three months we are there, how to share the gospel through music, worship, and Christian context."

"I don't know exactly what I want to do so I hope to get some perspective and not be in the little Southborough bubble my whole life," Safiol said. "I want to see what's out there and what other opportunities there are." (read more)
Southborough soccer player selected for All-New England designation – Southborough Wicked Local:
Saint Michael's College women's soccer senior Michaela Horne, of Southborough, capped her career by claiming her first New England Women's Intercollegiate Soccer Association All-New England selection, landing on the 12-woman second team.

One of six midfielders honored as All-New England, Horne was the third Purple Knight in as many years to claim the designation, as seven members of her program have now been recognized since 2009. Horne was also chosen to compete in the NEWISA Senior Bowl on Dec. 3. (read more)
Algonquin holds top chef team competition – Southborough Wicked Local:
The school held a Culinary Challenge Competition. The winning team was comprised of three Algonquin nurses. Seniors Noah Brazer (of Southborough), Michelle Tremblay (of Southborough) and Eliene Wen (of Northborough) finished in second place.
The event raised $1,600 for the school's Serenity Garden, which provides fresh produce for 300 Nutrition & Culinary Arts students.

Fellow Event Committee members, Susan Muise, Tiny Tomahawk Preschool director/teacher and Family Consumer Science teacher and Nikki Ruffo, Business teacher, both explained that the money raised will help with the garden's upkeep throughout the year and during the summer months when most of the crops are flourishing and need to be harvested (read more)
Updated (1/20/17 5:58 pm): corrected miss spellings of names in the Culinary Challenge story.