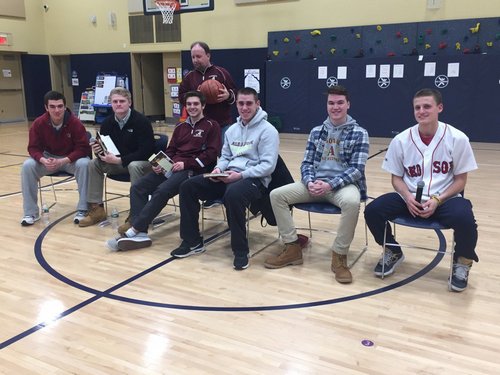 Last week, ARHS Boys Basketball turned around a season with a rocky start. They beat Shrewsbury 51-47 on Friday and now lead the Mid Wach A league.
A lot can change this week with three games scheduled. But all three competitors are bottom of their leagues, so the Boys' chances of turning the past two wins into a streak are strong.
Algonquin Wrestling has had a very strong season. But with three losses this month, they slipped down to second in the Mid Wach league, below Nashoba. (That rank seems a bit deceiving though. Nashoba's record is a paltry 6-3 compared to ARHS's 14-3. So I still say our Boys rule!)
They head back to the mats this week for a match against Quabbin on Wednesday and a tournament on Saturday in Methuen.
Algonquin Boys Hockey fell from the top of the Roy Conference League. They suffered two losses last week to Shrewsbury and Nashoba. That places them third in the league.
They'll hope to start turning that around when they face bottom ranked Westborough on Wednesday.
Girls Swimming scored two wins last week against Tantasqua and Wachusetts. That brings them up to second place in the Mid Wach rankings.
Here are the ARHS varsity games on tap for the week. 
Have a photo of your favorite team in action to share? Email mysouthborough@gmail.com. (Until then, expect to keep seeing pics from past seasons!)
To find a complete schedule of Algonquin sports, including JV and freshmen match ups, click here. Follow these links for the Assabet sports schedule and the St. Mark's sports schedule.
Monday, January 23, 2017
7:00 pm ARHS Boys Basketball vs. St. Bernard's Central Catholic @ St. Bernards High School
8:20 pm ARHS Girls Ice Hockey vs. Matignon @ New England Sports Center
Tuesday, January 24, 2017
7:00 pm ARHS Boys Basketball vs. Burncoat @ Algonquin
Wednesday, January 25, 2017
4:00 pm ARHS Boys Swimming/Diving vs. Leominster @ Fitchburg State University
4:00 pm ARHS Girls Swimming/Diving vs. Leominster @ Fitchburg State University
5:00 pm ARHS Wrestling vs. Quabbin Regional High School @ Quabbin Regional High School
6:10 pm ARHS Boys Ice Hockey vs. Westborough High School @ North Star Ice Sports, Westborough
7:00 pm ARHS Girls Basketball vs. Notre Dame Academy – Worcester @ Notre Dame Academy-Worcester
Thursday, January 26, 2017
3:00 pm ARHS Alpine Ski Race vs. TBA @ Ski Ward Ski Area (Race GS)
7:00 pm ARHS Girls Ice Hockey vs. Westford Academy @ Groton School
Friday, January 27, 2017
3:30 pm ARHS Boys Swimming/Diving vs. Worcester @ Worcester Boys and Girls Club
3:30 pm ARHS Girls Swimming/Diving vs. Worcester @ Worcester Boys and Girls Club
7:00 pm ARHS Boys Basketball vs. Leominster @ Algonquin
7:00 pm ARHS Girls Basketball vs. Leominster @ Leominster
Saturday, January 28, 2017
9:00 am ARHS Indoor Track @ Reggie Lewis Track Center (MSTCA Coaches Invitational)
9:30 am ARHS Wrestling vs. Methuen @ Methuen (Tournament)
11:00 am ARHS Gymnastics vs. Holliston, Marlborough High School, Medway, Millis, Nashoba Regional High School, Westborough High School @ Algonquin
7:20 pm ARHS Girls Ice Hockey vs. Shrewsbury High School @ North Star Ice Sports, Westborough
8:10 pm ARHS Boys Ice Hockey vs. Wachusett Regional @ North Star Ice Sports, Westborough