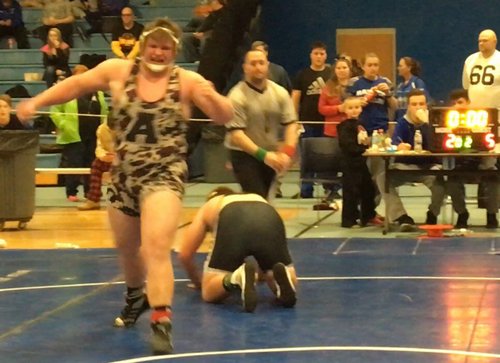 Algonquin Wrestling is still second place for their league. Last week, the team competed in a 15-team tourney on Saturday. Several wrestlers did well, including team captain Joe Vencile. Vencile marked his 100th win by finishin in 4th place.
ARHS Boys Basketball is still a top contender in the league. But the team lost one of last week's three games, moving them down a notch to second place. They play at Marlborough and Shephard Hill this week.
Girls Swimming scored another win last week against Leominster. That held their second place in the Mid Wach rankings.
Here are the ARHS varsity games on tap for the week. 
Have a photo of your favorite team in action to share? Email mysouthborough@gmail.com. (Until then, expect to keep seeing pics from past seasons!)
To find a complete schedule of Algonquin sports, including JV and freshmen match ups, click here. Follow these links for the Assabet sports schedule and the St. Mark's sports schedule.
Monday, January 30, 2017
5:00 pm ARHS Indoor Track vs. Marlborough High School @ Marlborough High School
5:30 pm ARHS Girls Basketball vs. Worcester North @ Worcester North
Tuesday, January 31, 2017
7:00 pm ARHS Girls Basketball vs. Marlborough High School @ Algonquin
7:00 pm ARHS Boys Basketball vs. Marlborough High School @ Marlborough High School
Wednesday, February 1, 2017
3:30 pm ARHS Girls Swimming / Diving League Meet @ Tantasqua Regional High School (Dive: 12:45pm, Swim: 3:30 pm)
3:30 pm ARHS BoysSwimming / Diving League Meet @ Tantasqua Regional High School
6:00 pm ARHS Gymnastics vs. Sharon @ Algonquin
6:30 pm ARHS Wrestling vs. Nashoba Regional High School @ Algonquin
Thursday, February 2, 2017
3:00 pm ARHS Alpine Ski @ Ski Ward Ski Area (Slalom Race)
Friday, February 3, 2017
7:00 pm ARHS Girls Basketball vs. Shepherd Hill Regional High School @ Algonquin
7:00 pm ARHS Boys Basketball vs. Shepherd Hill Regional High School @ Shepherd Hill Regional High School
Saturday, February 4, 2017
9:00 am ARHS Indoor Track League Meet @ Fitchburg High School
10:00 am ARHS Wrestling State Dual Meet Tournament vs. North Andover @ North Andover High School
11:00 am ARHS Gymnastics vs. Hudson Public Schools @ Hudson High School
4:00 pm ARHS Girls Ice Hockey vs. Leominster @ Gardner Veteran's Skating Rink
7:00 pm ARHS Girls Basketball vs. St. Bernard's Central Catholic @ St. Bernards High School
7:00 pm ARHS Boys Ice Hockey vs. Groton-Dunstable Regional @ Groton School