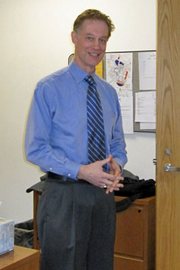 Yesterday, Southborough parents learned that they can apply to weigh in on the hiring of three principals. It came with news that that Algonquin Regional High School's Tom Mead is retiring in June.
Earlier this month, Principal James Randell announced he would be retiring in June. Afterwards, I shared news that the Finn and Woodward principal would be replaced by two principals.
Superintendent Christine Johnson clarified yesterday that she isn't increasing the number of administrative positions. She informed me that the Assistant Principal position for K-3 will be eliminated.
Emails from Johnson to parents today outlined the Search Committee process for selecting the three principals. It outlines the requirements for committee members and how parents can apply to participate.
Interested parents need to apply by a week from today, February 8th. 
Two Southborough committees will seek principals, one for Finn School (PreK-1) and one for Woodward (2-3). Those committees will include two parents of students.
The Algonquin search committee is seeking one Southborough parent from the APTO (Algonquin Parent Teacher Organization).
Each committee will help form interview questions, screen candidates, and recommend semi-finalists to the superintendent. To be eligible:
Members of each committee must be available to meet from 3:00 p.m. to 5:30 p.m. on February 16, February 27 and March 1, 2017. Interviews are scheduled for Monday, March 6 and, Wednesday, March 8 from 8:00 a.m. to 3:30 p.m. If you are unable to meet during these times, please do not consider applying for one of the positions on this Search Committee.
To apply:
Please submit your letter of interest to Cheryl Lepore, Administrative Assistant to the Superintendent, via email at clepore@nsboro.k12.ma.us no later than Wednesday, February 8, 2017. All interested committee applicants will receive confirmation if selected for the Search Committee by Friday, February 10, 2017.
Your application should indicate which school's principal you are seeking to help hire.
The letters from Johnson to parents were quite similar. [Editor's Note, I eliminated below the passages already quoted above.]
To Southborough K-3 parents, Johnson wrote:
After twelve years of outstanding educational leadership as Principal of Southborough elementary schools, James Randell, has announced his retirement as of June 30, 2017. On behalf of the Southborough Public Schools, I extend our most sincere gratitude and appreciation to Principal Randell for his commitment to our students and school community.

A Search Committee for the next Principal of the Mary E. Finn Elementary School and Principal of the Albert S. Woodward Memorial Elementary School will be responsible for the following:

Creating and reviewing interview questions
Reading resumes of all applicants
Selecting candidates for interviews
Interviewing applicants
Recommending semi-finalists to the Superintendent . . .

The composition of this committee is as follows:

Two Teachers
Two Parents
A School Committee Member
A Non-Instructional Staff Member
A Central Office Administrator
A Student Support Services Director
Algonquin parents' letter contained two main differences.
The introduction obviously focused on Mead's retirement:
After eight years of outstanding educational leadership as Principal of Algonquin Regional High School, Thomas Mead, has announced his retirement as of June 30, 2017. On behalf of the Northborough-Southborough Regional School Committee, administration, and Algonquin staff, I extend our most sincere gratitude and appreciation to Principal Mead for his tireless dedication and commitment to all students and to our school community. His excellence lies in his advocacy for all children and his belief that a student's potential is without limitation.
And the letter outlined a different composition for Algonquin's Search Committee:
Two Department Chairpersons
Two Teachers
Two Students (Class of 2017)
A Non-Instructional Staff Member
Two Parents from the APTO (one from Northborough and one from Southborough)
One Member of the Algonquin School Council
An Assistant Principal of Algonquin Regional High School
A Central Office Administrator
Two School Committee Members (one from Northborough and one from Southborough)