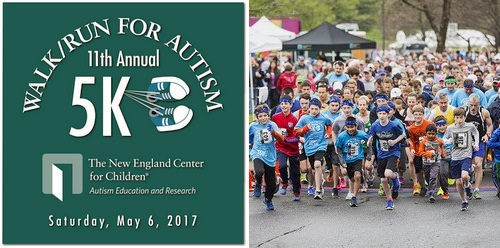 The New England Center for Children's 11th Annual Walk/Run for Autism is this Saturday, May 6th in Southborough.
Runners and walkers, including many from Southborough, are running to raise awareness and funds for autism research and education.
NECC promotes:
Don't miss out on your chance to participate in this professionally timed race run through the beautiful neighborhoods of Southborough, MA.

Not a runner? That's okay too – you will be in good company with the many walkers, and we encourage you to stay for the post-race cookout with excellent food, live entertainment and plenty of booth vendors!
And while I'd love to see you there – you don't even need to step outside to support the fundraiser. You can also help by sponsoring one of the runners or walkers already registered.
For those of you who are planning to come out. . .
Saturday's activities are based at Neary School with the course looping around the Parkerville and Deerfoot Road area.
Handicapped parking is available at Neary. Participants who don't need the handicapped parking are encouraged to carpool and park at one of three other lots:
Short walk from race site – 225 Turnpike Road
Continual shuttle service to and from site – 175 Crossing Boulevard and NECC at 33 Turnpike Road
On site registration begins at 8:30 am.* (Sorry, online registration is closed.) The race begins at 10:00 am and activities are expected to run through 2:00 pm.
To learn more click here.
*If you care about your shirt size, get there early!