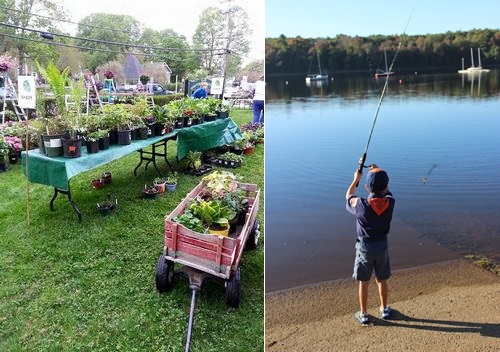 Here are highlights of what's happening around town this week. (For more, check the Event Calendar.)
[Note: The highlights don't include ongoing weekly programs. For the Southborough Library's regular storytime programs, click here for their events page. For the Southborough Senior Center's ongoing classes, click here for their calendar.]
Monday, May 8, 2017
Free Training on Narcan for reversing overdose and Hidden Signs of opioid abuse (5:00 – 7:00 pm – every 10-15 minutes) @ Pilgrim Church, 15 Common St: Participants will be trained to identify an opioid overdose and learn how to reverse it using Narcan. At the same event, they can learn how to identify signs of substance abuse before an overdose takes place. For details, see dedicated post.
Tuesday, May 9, 2017
Town Election (6:30 am – 8:00 pm) : The annual election. This year that includes contests for the Town Clerk and two Selectmen seats. For your voting location, click here. For a sample ballot, click here. For coverage on what's being decided, click here.
Young Scientists (11:30 am – 12:30 pm) @ Southborough Library, Eaton Meeting Room: Free STEM (Science, Technology, Engineering and Math) program for kids age 3-5. Kids will learn concepts through hands-on activities, story time, challenges, and simple experiments. Must be accompanied by a parent/caregiver (Siblings are welcome.) Registration is required. Call 508-485-5031. This is a special enrichment program facilitated by STEM Beginnings through the YMCA & Community Partnership Program to be held weekly, April 25 – June 6th.
Trottier Incoming 6th Grade Parent Orientation (6:00 – 6:00 pm) @ Trottier Middle School: Tours at 6:00 pm presentation at 7:00 pm. This is an evening for parents of students who will be attending Trottier as sixth-graders in the fall. It is an introduction to the school including academics, activities, and what to expect on the first few days. It will also include an introduction to the 6th grade Stone Environmental Center trip that will take place in the fall. The event will give you an opportunity to tour the school and hear presentations from guidance counselors, sixth grade teachers, and Principal Kieth Lavoie.
Wednesday, May 10, 2017
Senior Songsters Musical Show (12:00 pm) @ Southborough Senior Center: Pre-register at 508-229-4453. (As of noontime today, there were only a few slots left – so sign up quickly.) The Southborough Senior Songsters present "On the Road Again" The show includes a boxed lunch with suggested donation of $6 per Friend of COA and $10 per non-member Songs in the show include On the Road Again, Georgia, Chicago, I Left My Heart in San Francisco, Old Cape Cod and many more songs about cities and states. The 30 member Songsters look forward to singing the songs that are from the Great American Songbook.
Poetry Workshop Series (6:00 – 8:00 pm) @ Southborough Public Library, main floor: Join several Southborough poets as they review and discuss the work of a featured author and discuss & create poetry of their own. The group meets twice per month. This week's focus is Philip Larkin The series is through a partnership between the Southborough Public Library & the Worcester County Poetry Association.
Thursday, May 11, 2017
Legos at the Library (3:45 – 5:00 pm) @ Southborough Public Library: Children are welcome to come build with Legos, and display their creations in the Children's Room. Legos will be provided, but all materials need to remain at the library. Parents or caregivers must stay with children during this event.
Friday, May 12, 2017
Drop In Art Workshop (10:30 – 11:30 am) @ Southborough Library, Eaton Meeting Room: We invite you to join members of the team from your local Bright Horizons for a morning art session specifically designed for Preschool and Kindergarten Prep aged children.
Senior Matinee – Lion (12:00 – 2:00 pm) @ Southborough Senior Center: Free movie screening for Southborough seniors. (But please pre-register) PG-13, Biographical drama starring Dev Patel and Nicole Kidman. Before the show, the center will serve lunch in the "cafe" beginning at 11:15 (Hot Dog with baked beans, dessert, and a drink) Suggested donation of $3 for lunch
Saturday, May 13, 2017
Stamp Out Hunger : Southborough postal carriers are taking part in the nation's largest single-day food drive. Items collected in Southborough will go directly to the Southborough Food Pantry. You can help by leaving a bag containing non-perishable foods next to your mailbox prior to your normal mail delivery on this day. For details, see dedicated post.
Bird Walk (7:00 – 9:00 am) @ Breakneck Hill Conservation Land: The Southborough Open Land Foundation (SOLF) will take part in Mass Audubon's annual "Bird-a- thon". Meet at 7:00 am at the parking area. No previous bird watching experience is necessary. Bring binoculars and dress appropriately for ticks. This event is free and open to all.
Southborough Gardeners Annual Plant Sale (8:00 am – 2:00 pm) @ Community House, intersection of routes 30 and 85.: Come early for the best selection of plants shared by the Gardeners from their own gardens as well as local nursery stock. A beautiful selection of locally grown annuals, perennials, hanging planters and Mother's Day gifts. Proceeds benefit their scholarship fund, town beautification and education. For details, see dedicated post.
Drop-in Fishing Clinic (10:00 am – 2:00 pm) @ Hopkinton State Park: The community is invited to a free, noncompetitive, family-friendly learn-to-fish event. Rods and gear will be provided, as well as free admission to the park. The event is geared to ages 6-14 (though not limited to those ages) and will take place rain or shine! For details, see flyer right.
Fay School Farmers Market (12:00 – 3:00 pm) @ Harlow Circle in front of Fay's Primary School, 25 Middle Rd: The market is open to all and will feature local produce, prepared food, and handmade goods by local vendors. From 1:00 – 2:00 p.m. check out Animal Adventures' Show and Touch program that will feature various farm and exotic animals.
Steeple Coffeehouse (7:30 pm) @ Pilgrim Church, 15 Common Street: Dave Pietro and Friends will perform. Doors open at 7:00 pm. Please bring a donation for the Southborough Food Pantry. Proceeds from coffee and desserts go towards local charities. In advance: $17 General/$14 Students & Seniors. At the door: $20 General/$17 Students & Seniors. For more details, check www.steeplecoffeehouse.org.
Updated (5/8/17 5:53 pm): Just learned about the Steeple Coffeehouse.
Updated (5/8/17 6:00 pm): And I missed including the Narcan training event that's taking place tonight.