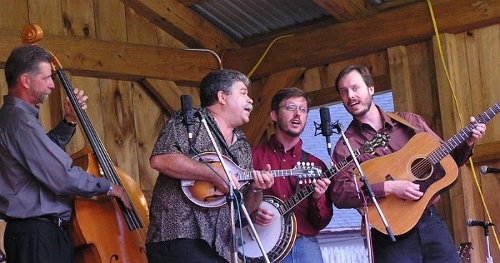 Southborough's Steeple Coffeehouse is bringing back crowd pleasers Blackstone Valley Bluegrass.
The show takes place this Saturday, June 10 at 7:30 pm with doors opening at 7:00. Tickets are $17 in advance ($14 for students/seniors through Brown Paper Tickets) or $20 at the door ($17 for students/seniors).
Coffeehouse organizers have previously written of this week's headliners:
They just may be our house band for all the times they've made us smile. They will play a few tunes you know, but it's the kind of music that you feel like you know, even if you are hearing a particular number for the first time.
And this week they promise:
As always Blackstone Valley Bluegrass will be playing their own fiery brand of Bluegrass!
Not familiar with the venue? The Steeple Coffeehouse is Pilgrim Church's Fellowship Hall – transformed for the evening into a coffeehouse with musical performances.
While enjoying the concerts, locals can enjoy coffee and dessert. Proceeds from the refreshment sales are donated to local and regional charity. As is their tradition, organizers are also requesting people to bring donations for the Southborough Food Pantry.
Interested in a preview of the band? Check out BVB in concert below:

posted to You Tube by David Griffin
For more details, visit the Steeple Coffeehouse website.