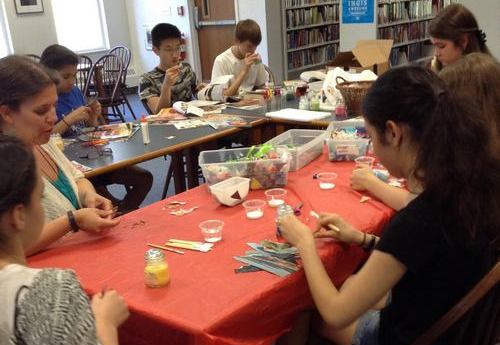 The Southborough Library has relaunched its "Crafternoon" series. This summer, they are bringing back popular crafter Mandy Roberge to lead four more workshops.
The craft projects are mainly geared to teenagers. (The first session also welcomes adults, and the last allows 12 year olds.)
Up first is decoupage jars. This time, patrons will decorate mason jars. In the past, Roberge described:
All it takes is some carefully cut pages from old books, patterned paper, and magazines to turn a simple jar into an intricate work of art – whether it is to be used as a decorative holder or a tiny lantern.
The free craft sessions all take place on Wednesday afternoons from 3:00 – 5:00 pm. Registration is not required to participate.
The schedule for the summer is below. (Click thumbnails to enlarge):
June 21 – Decoupage Mason Jars
(Program for teens and adults)
A fun afternoon of creating decoupage mason jars.

July 12 – Jewelry Makerspace
(Program for teens)
A jewelry making program for teens. Patrons can create their own unique item using colorful beads. Roberge will guide and support them as they access their own imagination to create a one-of-a-kind keychain, bracelet or pair of earrings.

July 26 – Sculpey Pens & Key Chains
(Program for teens)
Patrons can create their own sculpey pens and key chains.
August 9 – Henna Tattoos
(Program for 12-19 year olds)


Henna art is Roberge's main area of expertise. You can see examples on her website, here. In this session, patrons can create their own hand designs to pencil onto their skin.