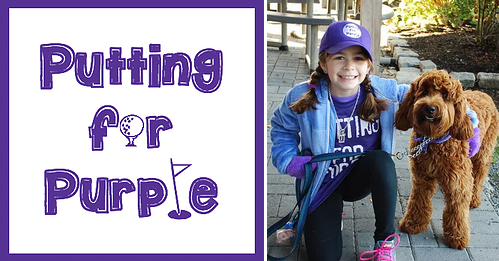 A local fundraiser will help kids have fun while raising funds for a classmate's personal cause.
(Though, that doesn't mean adults without little kids can't join in.)
The fourth annual fundraiser is in honor of (and partially organized by) Southborough 5th grader Emily Harmon, who suffers from Absence Epilepsy. (You can read more about her in a Community Advocate's 2014 profile of her.)
Putting for Purple takes place at Green Thumb on Sunday, September 17, from 9:00 am – 3:00 pm.
Once again, the fun goes beyond mini golf. They're entertaining with facepainting, a dunk tank, and an inflatable obstacle course. (Click on thumbnails below to take a look at some of last year's fun.)
Donations of $10 per person will be collected to raise funds for FACES (Finding a Cure for Epilepsy and Seizures). It is a foundation dedicated to improving the lives for those dealing with Epilepsy.
If you'd like to learn more, visit Putting for Purple. You can also register there.
If you'd prefer to register by mail, click here to open a printable pdf version of the flyer.