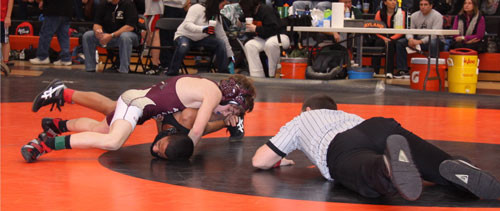 Alqonquin Youth Wrestling Clinics will hold a winter session again this year. Registration is now open.
The clinic is for 5th-8th graders will run December 5 through February 22 on Tuesday and Thursday evenings. It's meant to be an introduction to wrestling that teaches fundamentals. So, no experience is required.
Why wrestling? Program coordinators pitch:
Develop balance, flexibility, coordination, body awareness and self confidence through high energy, fun filled sessions where your child will learn amateur wrestling techniques.
The clinic is sponsored by ARHS Varsity Wrestling. To register, send in your registration form to Susan Mahoney, Wrestling Boosters Rep., 14 Sarsen Stone Way, Southborough, MA 01772.
For more details and the registration form, click the flyer to enlarge or open this pdf version. The program begins in two weeks. So, act soon.