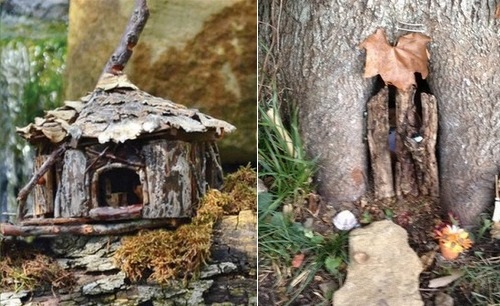 To launch a new "village" in Town, Southborough's Deborah Costine planned to run a free workshop for all ages this Saturday. Due to the forecast, they are now targeting Saturday, June 2nd from 2:00 – 4:00 pm.
As I previously shared, this spring and summer, the Beals Preserve will host a "Fairy and Gnome Village". Later this spring and through the summer, "architects" may contribute houses to the village. The village will compliment the Art on the Trails exhibit that will be going on at the preserve this summer. Walking tours this year will include visits to the village.
Following the workshop, the community is invited to contribute additional homes for the bitty magical creatures – but there are some rules below. (e.g., Don't bring along silk flowers or trinkets to decorate the buildings. In keeping with the setting, all materials must be sourced from the preserve and surroundings.)
Here, again, are more details on the event and the summer-long opportunity:
FAIRY AND GNOME VILLAGEThe Southborough Open Land Foundation is pleased to announce the settling of a Fairy and Gnome Village at Beals Preserve during the spring and summer of 2018. This program is lead by artists, puppeteer and naturalist Deborah Costine, and with support from Art on the Trails Program Director Catherine Weber and in collaboration with a committee of fairy house enthusiasts throughout Southborough. This program is an opportunity for creative and resourceful architects of all ages to build a house within the village using natural materials found at the Preserve. Our goal is to honor nature by using what is at hand to create whimsical structures in a village setting.

The program will begin with a workshop, Creating your own Fairy or Gnome House, lead by Deborah Costine on Saturday, [June 2], from 2-4 pm. This program is free and all are welcome. Meeting location and map.

House building parameters

Materials must be sourced from nature, specifically from Beals Preserve and its surroundings.
No purchased or manufactured materials are allowed
Houses should be built on site
Each house will receive a sign, identifying the architect, as well as publication on the Art on the Trails Blog.

Following the May workshop, builders may visit the preserve and build houses throughout the summer. Builders should then send a picture of their house to us to have a sign made and their creation published on this website.

Tours will be held throughout the summer by community members including the Girl Scouts, Deborah Costine, and the Art on the Trails program, among others.
To inspire readers, I found some fun examples of fairy houses that appear to have been built using natural materials (all of these are from flickr, credits below):