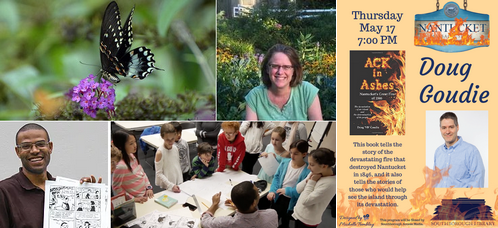 Here are highlights of what's happening around town this week.
[Note: The highlights don't include ongoing weekly programs. For those listings and more, check the Event Calendar.]
Monday, May 14, 2018
SOS info meeting (7:00 – 8:00 pm) @ Woodward School cafeteria, 28 Cordaville Rd: General SOS is the umbrella organization under which the four individual Southborough SOS committees operate (one per K-8 school). Committee members from General SOS and the individual schools will be on hand to give an overview of the organization, meet and greet with parents, and brainstorm for fundraising and volunteerism. For details, see dedicated post.
Tuesday, May 15, 2018
Nutrition Demo – Oats in a Jar (Senior Center Program) (11:30 am – 1:00 pm) @ Southborough Senior Center: Southborough Senior Center's Dietician Karen White is holding another "Nutrition for Life" program. Seniors are invited to learn how "Oats in a Jar" are done, make their own jar, and enjoy it at home. In order to have enough mason jars on hand, participants are asked to sign up early. To register, call 508-229-4453. The suggested donation for the program is $3 per person. For details, see dedicated post.
Adult Coloring (Senior Center Program) (1:00 – 2:00 pm) @ The Southborough Senior Center, 9 Cordaville Rd: Come enjoy a stress free activity that relaxes the brain and allows your mind to get the rest it needs. Adult Coloring Books will make your life a whole lot brighter. All supplies will be supplied by the senior center.
NSPAC's "Go the Distance" Awards Night (6:00 – 7:30 pm) @ Algonquin Regional High School, 79 Bartlett St, Northborough: The Northborough/Southborough Special Education Parent Advisory Council (NSPAC) will host its 8th annual "Go the Distance" Appreciation Awards evening. Northborough or Southborough children with special needs or their family members or guardians were encouraged to nominate individuals who made a positive difference in the child's life. All are welcome, but registration is requested. For details or to RSVP, click here.
Butterfly & Hummingbird Gardens w/Ellen Sousa (7:00 – 8:30 pm) @ Southborough Library: This presentation will be interactive. Bring questions about your own individual garden needs and get advice from an expert. Sponsored by The Southborough Open Space Preservation Commission, as part of the Native Pollinator • Native Plant Initiative. For details, see dedicated post.
Wednesday, May 16, 2018
Exciting Womens' Circle (Senior Center Program) (10:30 am – 12:00 pm) @ Tower Hill Botanic Garden, Boylston: A social group for women with semi-monthly meetings at the Senior Center. New members always welcome. This session, join them for a trip to Tower Hill Botanic Garden. Enjoy indoor garden exhibits, outdoor paths, and lunch at the café. Admission is $10 per senior, food costs about $10-15 per person.
Thursday, May 17, 2018
Graphic Novel Workshop for kids (4:00 – 6:00 pm) @ Southborough Library, Eaton Meeting Room: Author/Illustrator Jonathan Todd will be holding a special workshop where children can learn how to create their own graphic novels! This program is for children ages 8-12 years. Space is limited and registration is required. Please register in the Children's Room.
Author Doug Goudie (7:00 – 8:30 pm) @ Southborough Library, Main Floor: Doug's book, ACK in Ashes: Nantucket's Great Fire of 1846, tells the story of the devastating inferno that destroyed Nantucket over 170 years ago. This program will be filmed by Southborough Access Media. For details, see dedicated post.
Friday, May 18, 2018
Saturday, May 19, 2018
Poetry Open Mic and Writing (2:00 – 4:00 pm) @ Southborough Library, main level: Please join our regular Saturday poetry group for the last event of the season – the day will start with an "Open Mic" of interested poets reading work that they wish to present. After the reading, a regular session will focus on specific writing techniques accompanied by real-time writing prompts with the group. For more info, contact Heather J. MacPherson at heathermacph@gmail.com.
Scratch at the Library (2:00 – 4:00 pm) @ Southborough Library: Coding Club for 3rd – 5th graders. This is the 2nd of 3 sessions through June. Participants can register for 1-3 of them. Children new to Scratch will learn about the essentials using guided exercises while those more familiar with Scratch can work on suggested projects or experiment with their own projects. For details, see dedicated post.
3rd Annual Southborough Interfaith Iftar Dinner (7:00 pm) @ St. Mark's Church's Parish Hall, 27 Main St: For the third year, an interfaith dinner will be held during Ramadan. They will be collecting items for the Southborough Food Pantry. For details, see dedicated post.
ARHS Junior Prom (7:00 – 11:00 pm) @ Union Station, Worcester: Algonquin's Junior Prom
Sunday, May 20, 2018
ARHS Junior Post Prom Party (12:00 am – 5:00 am) @ New England Sports Center, Marlborough – via via bus to and from ARHS only: The annual overnight bash organized by the APTO to provide a safe venue for Algonquin students to party after the prom. This year's party will include ice-skating, a mechanical bull, remote control racing, airbrush tattoo artists, hypnotist, caricaturists, photo souvenirs, pool tables, DJ, and more! Food and drinks will be plentiful throughout the night. Tickets are required. Click here for more details.