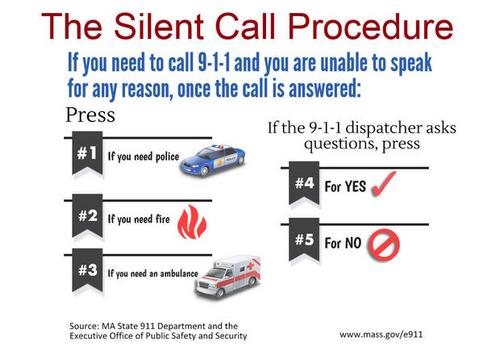 [Editor's Note: I was busy working this morning and didn't hear about the shooting in Texas. This was a terrible coincidence, not a reference to that incident.]
This is a post that I hope will never be needed by anyone reading it.
The subject of mass shootings has been on a lot of people's minds lately. It's certainly worried parents of school children. But even adults without kids in school are thinking about the dangers in public settings.
Earlier this spring, the schools held public sessions to educate parents on their "Safety Readiness" efforts. You can scroll down for more on that. But first. . .
In a conversation this week, the subject turned to what to do in a situation, like public shootings, where sometimes talking is dangerous. It turned out, people had heard and read different things about the ability to text 911, how texts should be addressed, etc. I decided it was worth reaching out to the experts for what to do in our town.
The answer is – always CALL 911.
According to Chief Kenneth Paulhus, texting isn't an option here (yet). Chief Paulhus tells me that the State Police have been piloting texting capabilities in several locations. But it's not ready to roll out. (When it is, the state will publicize that.)
In the meantime, there is a procedure for silent emergency calls.
If you are unable to communicate at all, the police should still be able to track the call location and send a police car to investigate. But Southborough dispatchers are trained to work with silent callers, and there is an option of providing more information through your keypad.
Once the 911 call is answered, Press:
1 if you need Police
2 if you need the Fire Department
3 if you need an Ambulance
After that, you can answer the dispatcher's questions by pressing:
4 to answer Yes
5 to answer No
As for the schools. . .
This spring, the Southborough and Northborough schools hosted programs to educate parents about their Safe School Readiness program. Both were recorded by local cable access for parents who couldn't attend. The first video below is of a district-wide event in April. Below that is a presentation from March, when Finn and Woodward teamed up for an event tailored to parents of our youngest students in Southborough.
"Making the Connection: Safe Schools, Safe Community"
April 3, 2018 – This presentation for parents by the Public Schools of Northborough and Southborough was made collaboratively with the district administration and emergency officials from both towns.
In it, Superintendent Johnson referenced documents that you should be able to find on the district website.

posted to You Tube by Northborough Cable
Finn & Woodward School Safety Readiness and ALICE Presentation
March 29, 2018 – Principals of Southborough PreK-3 public schools spoke to parents about their Safe School Readiness program.

posted to You Tube by Southborough Access Media
Updated (5/18/18 12:08 pm): I just heard about the shooting at Santa Fe High. I didn't want anyone to think this post was an insensitive response to that – so I inserted the Editor's Note above. Sadly, this is a coincidence that is based on the too-often recurring tragedies.
Updated (5/22/18 7:56 am): A reader raised a great question in the comments yesterday. Originally, copying the text in the graphic, I wrote the procedure as "Press: #1. . . " The question was, does the "#" represent the # symbol on the phone keypad? It is confusing once you see that potential. So, I reached out and got the answer. No. The # is meant to represent "the number". I updated the text above and added a note to the graphic caption to clarify.