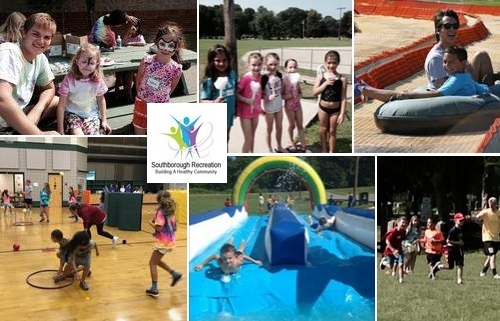 Southborough Recreation just broke some news today. Woodward School won't be able to host a summer camp this year.*
That doesn't mean that camp is cancelled. But some aspects of it need to change.
The half day camp for kids entering grades 2-6 will be held at Trottier Middle School this summer. That means the kids will no longer be walking down to St. Mark's School for a dip in the pool or skipping over to Fay School to use their facilities.
To make up for it, Recreation promises to ramp up the "on site" fun. They are also working to add field trips to weeks that didn't already include one. Field trips planned will vary by week. (As of now, they have lined up: kayaking at Hopkinton State Park, tuba sliding at Ski Ward, Ropes Course and Zip Lining at Boundless Adventure.)
Rec confirmed that they will also be making use of outdoor facilities at Neary – the playground, sand volleyball court, and tennis courts. Of course, up at Trottier, they have the track. So you can expect some track and field events to be added to the mix. And they previewed fishing and archery as part of outdoor activities this summer.
The dept is still working on updating the website. So, in the short term, expect information might still refer to Woodward School, St. Mark's pool, Fay School, etc. But the themes of the week and related activities should still apply.
You should also note that the changes that impact the WW camp naturally apply to the CIT program at WW.
Don't forget – Rec camp for kids aged 2.9 to entering 1st grade and a CIT program at Finn School.
You can sign up for the "Woodward (at Trottier)" or Finn camps online here. To sign up for the CIT program, click here.
*At this week's Board of Selectmen meeting, the contract for bringing a water main down to the under construction public safety complex was awarded. Public Works Superintendent Karen Galligan said work would be done in July. She also previewed that the gas company would be bringing lines down there after the DPW was done. She warned that people would want to seek alternate routes for much of July and August.
I was thinking that will be a pain for parents dropping and picking off kids at Woodward Camp. Avoiding Cordaville wouldn't be an option. Turns out, that "inconvience" won't be a problem, since the program is instead being moved to Trottier. Which, of course, is a different inconvenience for some of you. Others may be excited that the camp is finally going to be around the corner from their homes.