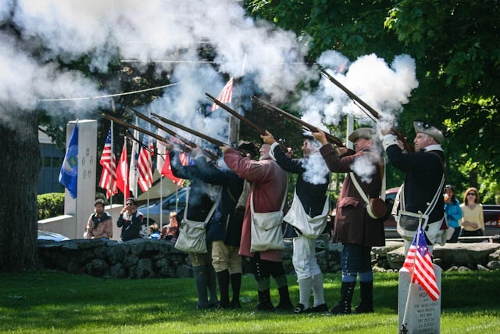 The Southborough community is again invited to participate in the town's traditional Memorial Day services.
As usual, residents, veterans and scouts are encouraged to help replace flags the Friday evening prior to the holiday. This year, that is this Friday, May 25th, at 6:00 pm.
The event takes place at the Rural Cemetery on Cordaville Road. Volunteers should meet in front of the Maintenance Building at the back of the cemetery.
Then, on Monday morning, veterans, local officials, and scouts will march in the annual parade. The morning begins with veterans invited to gather at the VFW/Legion Post Headquarters (at the Community House, 28 Main Street). That gathering takes place at 8:30 am this year.
Participants for the 9:00 am parade should gather in advance in the Main St. Bank parking lot (corner of Rt. 30 and Newton St). Groups traditionally joining veterans on the march are the Algonquin Regional High School Band, the Trottier Band, Boys Scouts, Cub Scouts, and Girl Scouts.
At 9:00 am, the parade proceeds down Main Street, then to the cemeteries and memorials:
Following tradition, we will pay honor and respect to those Veterans who have been laid to rest at the Rural Cemetery, Burnett Cemetery and Revolutionary War Cemetery.

We'll also pay tribute at the Civil War Monument to honor those who died during the War Between States where a student from Trottier will recite the Gettysburg Address.

Observances will end at the All Wars Memorial with the traditional speakers, singers from Algonquin Regional High School and finish with our National Anthem.
The public invitations were issued by Commander Steve Whynot, VFW Post 3276 and Commander John Wilson, American Legion Post 161.
For a photo gallery of last year's services click here.