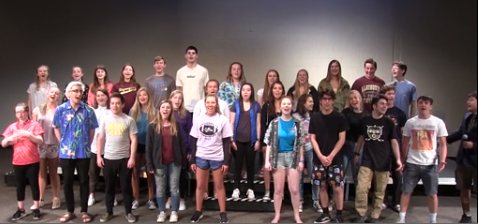 Mark your calendars. A cult classic is returning to Algonquin next month.
Students will be putting on a reboot of an original school production, "Wegmans the Musical".
Back in 2012, an Algonquin Drama class created an original musical inspired by all the hooplah around the opening of Wegmans in Northborough. What was just a class project drew a lot of outside attention. (Beyond local media, news of the project was shared by CNBC, Huffington Post, a business journal, and a national weekly.)
Over time, videos and clips on YouTube have racked up about 65K views. (Not exactly Logan Paul, but still pretty good for a class project. It even beat out the 2013 ARHS Good Time viral video, also a class project.)
Recently, I was confused by the new posting of the musical on Northborough Cable's YouTube site. Why was a 6 year old school video suddenly resurfacing?
The answer came in the form of a tweet. The drama teacher who sparked the project then, and is apparently leading a reboot, shared a link to footage of a recent visit by WCVB:
Check out Wegmans… THE MUSICAL 2.0 featuring WCVB's Jorge Quiroga! https://t.co/A1xREsaQ4N

— Maura Morrison (@MorrisonMaura) May 18, 2018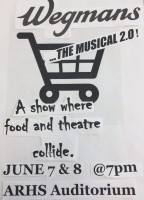 Digging into it, I found Gonk Arts' promo of the upcoming Wegman's Musical 2.0 on June 7th and 8th at 7:00 pm:
Wegmans…the Musical 2.0 is coming to the ARHS auditorium June 7 and 8 @7pm. 61 students are part of this original show about twin brothers managing competing supermarkets in Northborough, a lost elderly man living at Avalon apartments and the real-life event of a proposal in the store. This updated show was written by the 2012 Advanced Drama show, adding a live all-student pit band. Wegmans is providing props for the show where food and theatre collide.
A few more details were posted to a community calendar for Northborough:
The songs include parodies from RENT, Les Miserables, Wicked, Hamilton and Eminem. Six years have passed since Wegmans… THE MUSICAL hit the Algonquin stage. This is a minimally updated version

Admission is free, but donations will be accepted.
As mentioned above, the new version won't be a carbon copy of the old, and certainly the actors will have changed. But you can get a taste of what's in store by viewing the 2012 production. Below is the video recently posted to Northborough Cable. (So, presumably, its the "official" version.)