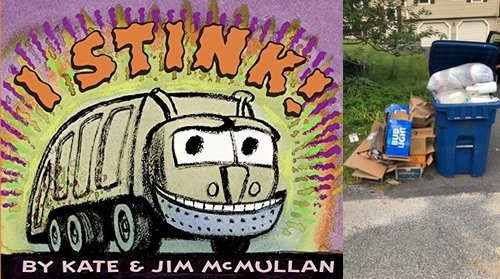 Between news on this year's Transfer Station permit fees, and open thread questions, commenters have been "talking" about curbside trash pickup.
A reader reached out to me to let me know about issues he had with his previous trash hauler. He noticed customers in town who seemed to have uncollected trash build up recently. And he pointed out that we're not the only town with issues.
(I found stories about issues between Republic and selectmen for West Boylston in the telegram and selectmen for Holliston in Metrowest Daily News. Other news stories are further flung.)
I don't have experience as a curbside pickup customer. And I don't want to pick on one pickup service. (One reader's problem trash collector could be treasured by another who never bothered to comment. And I don't know if googling a competitor to Republic would bring up similar stories for them.)
But, some of you may be making a decision whether to buy a new Transfer Station permit before yours expires in mid-September, or to hook up with someone to haul your garbage away. So, it seems like a good idea to offer current and potential customers a dedicated forum.
Do you have a curbside service in Southborough? Who is your provider? How much does it run you? Are you happy with the service? Or are you experiencing occasional small issues or major problems?
Are you considering switching to curbside or changing vendors? Do you have questions to ask other readers on the costs, pros, and cons?
Note: I will run another post soon on signing up for new Transfer Station stickers. I the meantime, for those of you who need a reminder of the alternative costs – Residents under 65 years old will pay $250 for full access Transfer Station permit stickers for up to three vehicles this year. For recycling only access – again, up to three cars – the cost is $75.
Residents 65 and older by the end of December 2018 are entitled to free-full access stickers. (By "free", I mean no permit fees. Yes, I know it's subsidized by taxes.) Click here for the Town's official page with more details on registering.