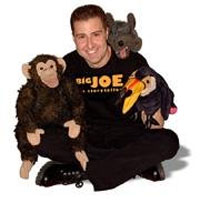 Big Joe the Storyteller will return to the Southborough Library to entertain kids next week. He'll be telling his silly tales to rock kids with laughter.
On his website, the storyteller describes his style:
People often describe my storytelling style as "exciting", "energetic", "animated", and "amazing". I have been called a "human cartoon", a "funny force of nature", and (from the Boston Herald) "The Robin Williams of the G-Rated set". Most of my storytelling style comes from my very extraverted personality and my over active imagination. A lot of my style also comes from watching lots of cartoons, a deep interest in Sesame Street, and a love of comic icons like the Marx Brothers, Three Stooges and Charlie Chaplin. Most importantly, much of who I am and how I perform comes from my mom who read me lots of books and told me lots of stories while I was growing up!
The event is open to the public, no registration required. It will take place upstairs at the Library Tuesday, July 31st at 11:00 am.