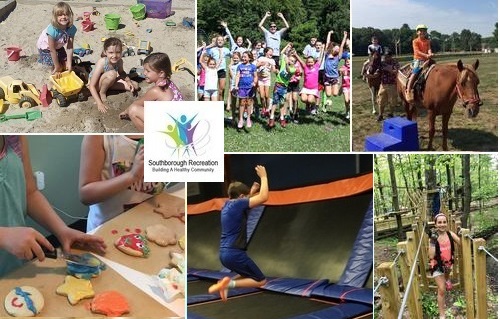 It seems too soon, but the final two weeks of Southborough Rec camps are almost here. That means you don't have much longer to sign kids up for the fun.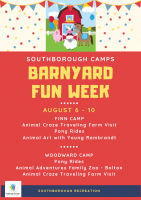 Next week, from August 6 – 10, kids will enjoy some Barnyard themed fun:
Pony Rides
a visit from Animal Craze Traveling Farm
Finn Camp (ages 3-7) will host Animal Art with Young Rembrand
Woodward at Trottier Camp* (ages 7-12) will take a field trip to Animal Adventures Family Zoo in Bolton
The next week, 13 – 17, is Rec's Farewell to Summer Week.
Finn Campers (ages 3-7) can enjoy:
Cookie and Cupcake Decorating with Sophia
Classic summertime games like tug-of-war, kickball, foursquare, hopscotch, and lawn games
and an Uhlman's Ice Cream Family Social
Woodward at Trottier* Campers (ages 7-12) will make three field trips:
Nourse Farm
Skyzone
and Boundless Adventures
In addition to the themed fun, the camps will offer their usual entertainment with gym games, playground play, arts and crafts and more. The half day camps run from 8:30 am – 12:30 pm and only cost $165 per week. Click here for more details and to register.
*In case your confused by the "Woodward at Trottier Camp" – every year, Southborough Rec holds its camp for older kids at Woodward. Late this spring, Rec learned that Woodward would be unavailable for use this summer. So it is temporarily relocated to Trottier. Campers do get to take advantage of the playground and recreation facilities on the Neary campus.