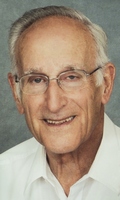 Peter Kapteyn, age 91, died at Beaumont of Northborough on Wednesday, August 1, 2018 after a brief illness. He passed away peacefully, surrounded by four generations of family members.
He will be lovingly remembered by his wife of 62 years, Marian, and their 4 children, Corey (Lynn), Paul (Kim), Joanna (Wayne) and Mariette (Bill). Nine grandchildren and nine great-grandchildren will also cherish his memory.
Peter was preceded in death by his youngest child Bert, who died in 1992 at the age of 26.
Born July 21, 1927 in Moerdijk, the Netherlands, he lived in Amsterdam, Toronto, Chicago, Burlington, and Framingham before settling in Southborough, MA in 1966. In 1950, he completed his studies in electrical engineering at MTS in Amsterdam. He immigrated to Toronto, Canada in 1953 and became a U.S. citizen in 1962. He worked for several companies during his 50 years as an electrical engineer.
His funeral service will be on Monday, August 6, at 10:00 A.M. in the Pickering and Son Westborough Funeral Home, 62 West Main St., Westborough. Burial will follow in Rural Cemetery, Southborough.
Calling hours at the funeral home [were posted for] Sunday, August 5, from 3 to 5 P.M.
Memorial contributions may be made in Peter's memory to Community Covenant Church, 2 West Elm Street, Hopkinton, MA. 01748.