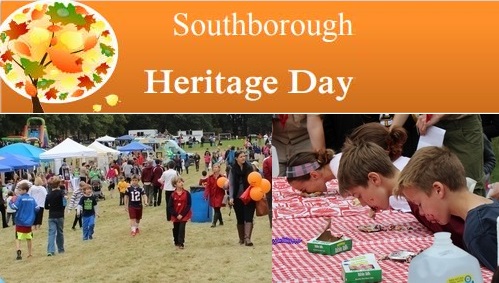 This year, Heritage Day falls on Monday, October 8th with festivities the day and evening before. Make sure to save the dates.
Note: If you are looking to exhibit, be sure to get your vendor form in by October 8th. And if your organization plans to march in the parade, don't forget to email Doreen Ferguson at dferguson@southboroughma.com.
For those of you unfamiliar, Heritage Day is the the annual town celebration of our community. While it honors the town's history, it is rooted in the present, bringing together different segments of the community.
That said, one organization in Town is looking to "Put Some Heritage Back in Heritage Day!"
Last year, the Southborough Historical Society demonstrated the hand pump the Town used to use to put out fires 120 years ago. SHS is looking for volunteers to help plan/run activities at this year's event:
The Southborough Historical Society is deep into planning for Heritage Day 2018, with the goal of bringing the "heritage" back to this annual event.

Everyone enjoys the parade and the vendors on St. Mark's Field, but did you know that the first Heritage Day of over 50 years ago featured many more activities and exhibits? Long-time residents will remember that the first Historic Celebration Committee's program featured a display of antique fire equipment, fire engine rides, Praying Indian's exhibit, an essay contest, a poster contest, and more.

The Historical Society is establishing a new Heritage Day Committee to plan events with a focus on our town's rich heritage. We are looking for volunteers to join the committee, as well as to participate in running the activities on October 8.

We are considering several ideas, including a tour of the newly restored Old Burial Ground, an Old Southborough General Store on the field, a tag sale at museum grounds, select pieces from SHS collection on display at booth on field, a museum open house, and crafts for kids.

Contact Michael Weishan or Rebecca Deans-Rowe at info@southboroughhistory.org
Heritage Day runs from 10:00 am to 3:00 pm on the St. Mark's field and nearby locations. But festivities really kick off the day prior.
Chestnut Hill Farm will hold its annual Harvestfest on Sunday, October 7th. (Stay tuned for more details.)
That night, Rotary Club holds its traditional Light-Up Southborough event. (You may know it as "the Pumpkin Wall".) Lit pumpkins are displayed on the stone wall running from the Southborough Library, up the street towards Town Hall. The pumpkins are carved and submitted by residents in the afternoon for display that evening.
On Monday morning at 10:00 am, the annual parade lets organizations toot their own horn. (Expect to see marching scouts, youth leagues, playgroups, school bands, etc. There are also fire trucks and a few "floats".)
From then until 3:00 pm, exhibit booths on St. Mark's Field also allow community groups to raise awareness and/or funds. And local vendors get a chance to sell their wares or promote their business.
Recreation is promoting live music and entertainment for this year. I don't know what this year's entertainment will be – but past activities included the pie eating contest, inflatables, robotics, and more.
Other annual features you can count on are The Friends of the Southborough Library's Book and Bake Sale at the library and an Open House at the Fire Department*.
I'll be sharing many more details on this year's events as the weekend gets closer. So stay tuned.
*The Fire Department always warns that their open house could close if staff and trucks are called out for an emergency.