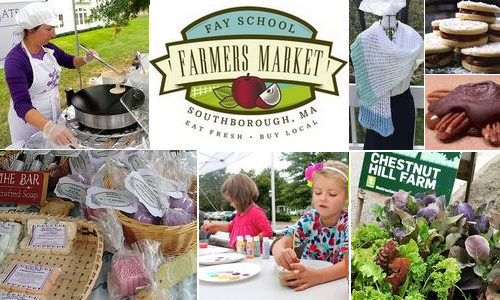 Fay School will again hold Saturday's Farmer Markets starting this month. The event will run weekly on Saturdays, September 22nd through October 27th.
The school is inviting the community:
The market is open to all and will feature local produce, prepared food, and handmade goods by local vendors and Fay School faculty and staff. Join us, and bring your neighbors, as we celebrate our local farmers, delicious food, and a sustainable community!
The markets will be held from 10:00 am to 1:00 pm in Harlow Circle at Fay School (in front of the Primary School), 25 Middle Road.
So far, more than a dozen local vendors are signed up already. Offerings include fish, seasonal veggies, baked goods, crepes, handmade soaps, knit goods, and more.
To add to the fun, the markets include themed entertainment for kids:
Each market will feature local produce, prepared food, and handmade goods by local vendors, as well as crafts for children, games, and musical performances by Fay students and faculty members. Each market will also feature a special theme and event for children to participate in.
The lineup this fall is:
September 22 – Local Heros: Superhero Cape and Mask Craft and Touch a Truck from 10:00 – 11:00 am
September 29 – Bubbles: Bubble Soap Art and Mike the Bubble Man's Bubble Show at 11:00 am
October 6 – Carnival: Face Painting and Carnival Games
October 13 – Puppets: Make your own puppet and watch the Peter Rabbit Puppet Show at 11:00 am
October 20 – Fall: Celebrate fall with a special craft and activities.
October 27 – Halloween: Halloween Crafts and Costume Parade at 11:00 am
Anyone interested in becoming a vendor can click here for info.