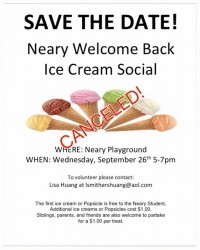 Not surprisingly, Neary School has cancelled the Ice Cream Social that was scheduled for tonight.
The event has traditionally welcomed kids to/back to school. It is usually held on the evening of the first day of school. This year, it was initially postponed due to excessive heat.
Since it is an outdoor event (where kids enjoy their ice cream on the playground) forecast thunderstorms put a dampener on tonight's plans.
With a second failed attempt, the school is throwing in the towel. There are no plans to reschedule it this fall.