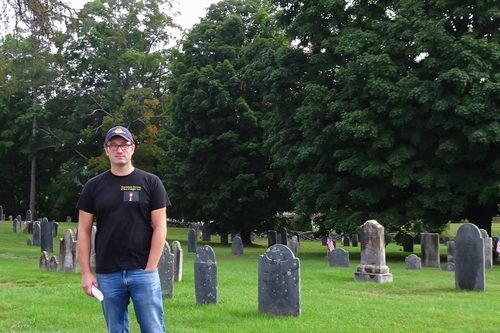 Last spring, Town Meeting voters approved work to restore deteriorating headstones at the Old Burial Ground. Now the Town is happy to share some positive results.

Last year, the Historical Commission began educating the public on the importance of preserving Old Burial Ground headstones.
In summer 2017, their expert identified gravestones at risk and made recommendations. The two step plan called for 63 headstones to be repaired, straightened and cleaned in the first year. Another 26 would be handled the second year.
In April, voters approved committing $26,450 of Community Preservation Act fund the restoration project.
Now the Historical Commission is sharing:
CPA Funds at Work: Take a look at the Old Burial Ground, and notice the headstones are completely upright again, having been restored by Kai Nalenz, President of Gravestone Services of New England LLC. Kai has also treated the lichen and it should gradually wash off in the rain.

As the town's oldest-cemetery, the Old Burial Ground (c. 1730) is a great repository of folk art that reflects the tastes, beliefs, and the lives of the residents of the Southborough over its first century and a half. (Southborough Historic Resources Survey, 2000).
I cropped the original contributed image (right), so you can get a better look at some of the headstones pictured.
If you're participating in Sunday night's Pumpkin Stroll, or viewing the remaining pumpkins the next morning, you can also check out the headstones on the other side of the stone wall. It's a great tie in to "Heritage Day".