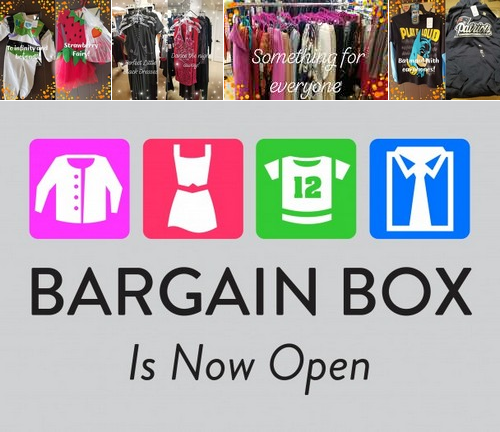 The Bargain Box reached out for my help boosting awareness. To be honest, I've never known much about the place. I was pleasantly surprised by the pics they posted to Facebook this fall.

The shop is run by volunteers out of the parish hall of St. Mark's Episcopal Church at 27 Main Street. It sells "recycled" clothing, shoes and accessories (no jewelery) for Men, Women, Teens, and kids.
If you're looking for new scarves, gloves and hats as the weather turns chilly, it looks like a great place to shop for a bargain. They are also boasting cocktail wear and holiday dresses. For the holiday coming up much sooner – Halloween – they're showing costumes and useful accessories.
But it's not just for "dress up". They also shared pics of casual wear, including Patriots fan gear.
You can click on thumbnails below to see some of their recently pictured goods.
You can check out their Facebook page for more pics. Better yet, swing by during the store's hours to check it out.
The regular hours for the rest of this year are:
Sundays through November 11 – noon to 2pm
Thursdays through November 15 – 10am to 5pm
3 Saturdays – October 20, November 10 and December 1 – 10am to 2pm
Special Sales are:
Half Price Sale Days

Thursdays Nov 8 & 15 – 10am to 5pm
Saturday, November 10 – 10am to 2pm
Sunday, November 11 – noon to 2pm

Rummage Sale ($5/bag) – Saturday, December 1 (During the church's Christmas Bazaar) – 10am to 2pm
The Basement operates for two seasons each year with open hours in the spring and fall. (So if you have items you'd like to donate, stay tuned for their collecting hours in the spring. You can also follow them on Facebook.)
The consignment shop has been supporting charity for more than 60/70 years. For more information click here or email bargainbox@stmarkssouthborough.org.