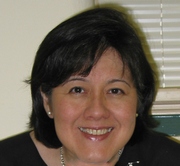 Erika Elizabeth Alvarez, 58, of Southborough, died peacefully, surrounded by her family, on October 5, 2018.
Erika lived to enrich the lives she touched. A gifted listener, voracious reader and exquisitely logical thinker, Erika was passionate about understanding the people and issues around her. She accumulated a bevy of powerful theories and methods to organize and problem solve. With her unique talents, she supported countless family members, friends and clients as they navigated their own paths (changing jobs, applying to schools, making family decisions, selecting the next product, market or investment). Along the way, she inspired them to dig deep to identify their core values and discover their own capacities. In her own words, "I know there are limits, but I hope you never find them."
Erika would often reminisce about her formative high school years, when she was surrounded by friends from cultures different from her own. She told of how these friends exuberantly, but respectfully, challenged each other's views. They encouraged each other to own, value and use their distinctive voices and powers. This amplified her appreciation for the value of cultural diversity and boosted her own courage and confidence. She always said, "They helped me believe in myself."
Born August 15, 1960, in Guayaquil, Ecuador, Erika was the oldest child of Amelia Adela and Carlos Alfredo Alvarez. They moved to Manhattan and eventually settled in the Bronx, NY, as the family grew to include her brother Carlos and sister Ivonne. Erika attended Sacred Heart School and St. Raymond's Elementary School, both in the Bronx.
Erika arrived into first grade speaking only Spanish. As a result, she was placed in the lowest achieving reading group, which embarrassed her and was early motivation that fueled her drive to learn, grow and succeed. While her school didn't appreciate her abilities, these were indispensable at home, where her family turned to her at age six to begin serving as the family's translator and interpreter.
Her skills were refined and flourished at Cardinal Spellman High School in the Bronx, where she was an honor student and rose to be Editor-in-Chief of the student newspaper, The Pilot, and Vice President of Student Government. She then attended New York University and graduated with a bachelor's degree in Psychology and a master's degree in Business. With a deep interest in politics and a desire to vote in the upcoming Presidential election, she became a U.S. citizen in 1982.
In 1984 Erika moved to Boston to begin a career in marketing at Gillette. Her role required a sales training rotation, and she was assigned to the Greater Cincinnati area, covering parts of Ohio, Kentucky and Indiana. She needed a car to service her territory but had never learned to drive. She persuaded Gillette to pay for her driver's education course by reasoning that driving was a skill required to fulfill her assignment. Despite being an inexperienced driver, her sales managers were often her passengers. During a visit to the Indianapolis Motor Speedway Museum she was moved to buy her managers presents that acknowledged their risk exposure – crash helmets.
It was at Gillette that she met her husband, Richard Tranfaglia, who was Assistant Manager in the Financial Planning Department. After just three months of dating, she knew they would marry. What she hadn't anticipated was that he would soon be offered a promotion that would require a transfer to California. They had just seven weeks to plan a wedding before their move. With time short, Erika's sister Ivonne lent Erika the wedding dress she had bought for her own wedding, which was being planned for later in the year.
Erika and Dick were married May 16, 1987, at St. Bartholomew Church in Needham. They moved to Hacienda Heights, CA, and Erika went to work for Hunt-Wesson Foods in brand management. In November 1994 they moved back to Massachusetts and settled in Southborough. Following two years marketing office products with Avery Dennison Corp., she joined a boutique firm in 1997 to focus on meeting facilitation and marketing consulting.
In 2001, Erika established her own practice, Alvarez Consulting, LLC. She specialized in meeting facilitation and qualitative market research. She derived great satisfaction from employing her skills to benefit non-profit organizations and public health studies.
Erika was deeply committed to literacy programs and was an active member of The Friends of Southborough Public Library, as well as the Association for Corporate Growth.
Erika and Dick loved to travel. Her favorite trips were cruises to Moscow, St. Petersburg, Istanbul and Venice. They also enjoyed numerous "photography road trips" to Maine, Vermont and Cape Cod, as one of Erika's greatest joys was supporting Dick's photography habit. At home, Erika loved to entertain. An avid collector of recipes, she enjoyed cooking and creating beautiful table settings. It was fun for her to indulge house guests by remembering and providing favorite comforts.
In 2014, Erika was diagnosed with a rare, incurable cancer (leiomyosarcoma). Her approach to the illness was inspirational. She resisted common terminology, rejecting the idea that she was "fighting" cancer. Cancer was never going to control or define her life. Erika continued to live fully, not idly waiting for the next treatment. She resolved to spend more time with friends and family in a way that wasn't possible when she was working. She and Dick continued to travel and visit friends and host "reunions" of close high school classmates.
Erika lived with grace, dignity and courage. During her final weeks, she focused on fortifying her friends and family to fulfill their dreams and achieve their peace. Erika's final words expressed her love, faith and appreciation. Erika exited this world without fear and with supreme gratitude.
Erika was predeceased by her father. She is survived by her husband, Richard Tranfaglia, of Southborough; her mother, Amelia Adela Alvarez, of Southborough; her brother, Carlos Alvarez, of Worcester; her sister, Ivonne Silva, and her husband Matthew Silva, of Clayton, MO; sister-in-law, Carol Tranfaglia and her husband Timothy Osborne, of Woodinville, WA; brother-in-law, Robert Tranfaglia and his wife Loretta, of Medway; her nieces Alessandra, Verónica and Dominique Silva, of Clayton, MO, and Julia Tranfaglia, of Medway; and her nephew Joshua Tranfaglia, of Medway. Further, she is survived by many dear friends.
Erika's family will receive visitors at the Morris Funeral Home, 40 Main Street, Southborough, MA 01772 on Friday, October 19, from 4:30 pm to 7:30 pm.
A Funeral Mass will be held on Saturday, October 20, at 11:00 am, at St. Anne Church, 20 Boston Road, Southborough, MA 01772. Burial will follow in the Southborough Rural Cemetery.
Erika asked that friends remember her with donations to support leiomyosarcoma research at Massachusetts General Hospital. Donations may be made in Erika's name either online at giving.massgeneral.org, or checks can be mailed to: Massachusetts General Hospital Development Office, c/o Keith Erickson, 125 Nashua Street, Suite 540, Boston, MA 02114.
To leave words of condolence for the family, please visit www.morrisSouthboroughfuneral.com.